Best Anonymous Bitcoin Trading Brokers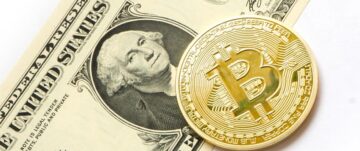 On the internet today, we have a lot of Bitcoin brokers that provide anonymous trading. But this does not help us in any way if we want to find a website that we would be trading at. Do you guys know why? That is because a lot of websites today pose as "anonymous" websites but would grab all your personal information right from the start (account creation). These websites ask for your personal information like DOB, Complete name, phone number, and some would ask for photo ID's when they require certain account levels to trade larger quantities.
What we will be sharing with you guys, would be the websites that let you create an account without going through the fuss of providing any personal information. Please be advised that the listed websites below are in no particular order.
The Top 5 Anonymous Crypto Brokers:
Without further delay, let's talk about the best five anonymous Bitcoin brokers!
PrimeXBT.com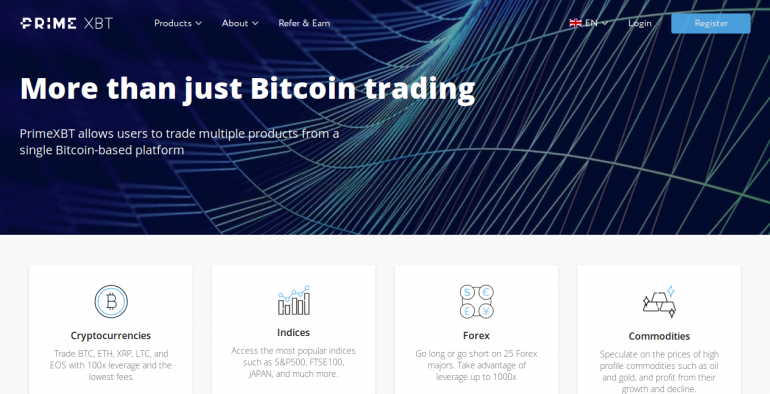 PrimeXBT has no section for ID verification, so it is simply never required. At signup there are only 3 fields – for email, password and a nickname of the user's choice. So new users can start trading right after their BTC deposit has been confirmed.
Deposit and Withdrawal Methods – The derivatives margin broker only accept BTC deposits, no other cryptocurrencies and of course no fiat money. The latter would force them to claim ID verifications and follow a rigorous KYC policy. But fortunately this is not the case with PrimeXBT. The only fee occurring with BTC deposits and withdrawals is the bitcoin network fee.
Website Features – A specialty of PrimeXBT is that they have more trading instruments than just cryptocurrencies. So traders can also trade indices, Forex and Commodities, of course all in the form of perpetual contracts for difference. On PrimeXBT you never really buy or sell the underlying asset as it is the case with CFD trading instruments in general.
Available Cryptocurrencies and Market – PrimeXBT offers BTC, ETH, XRP, LTC and EOS, each in the form of derivative contracts. In addition, the broker offers the most popular indices, such as S&P500, FTSE100, JAPAN, and much more. Regarding Forex PrimeXBT offers the 25 Forex majors, and last but not least commodities such as gold, oil and other majors that can be traded in the form of CFDs.
Pros
Cryptos and traditional products
High Leverage
Good Liquidity
Anonymous trading
Cons
We don't really find a downside so far, even customer service is quick and well engaged.
BaseFEX.com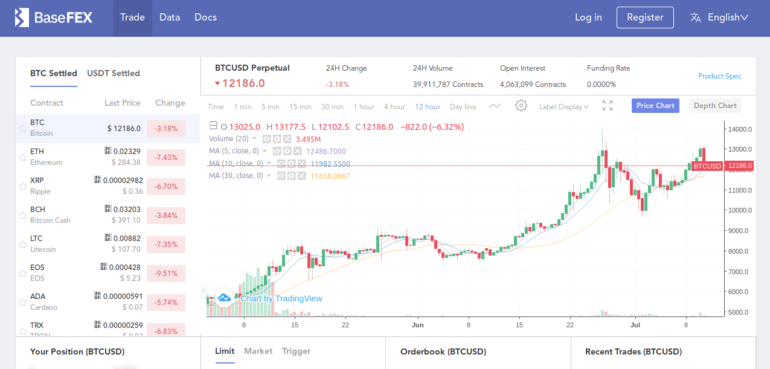 BaseFEX is one of the crypto margin trading brokers that offer high leverage and don't ask for any ID verification. So traders can quickly signup and start trading right away.
Deposit and Withdrawal Methods – The broker only allow BTC and USDT deposits and withdrawals, which is why they aren't forced to practice a KYC policy.
Website Features – The website is super simple, a very clean design reduced to just those elements that are needed for traders in order to start trading. We like the simplicity of the trading interface.
Available Cryptocurrencies and Market – BaseFEX offers BTC trading against the USDollar, and, in addition, 11 altcoins that can be traded against BTC. Nearly all altcoins come with a maximum leverage of 50:1, except 3, which come with only 20x maximum leverage.
Pros
Bitcoin and 11 altcoins tradable
High Leverage
Anonymous trading
Cons
Could offer more trading products
100x leverage only for BTC
BitSeven.com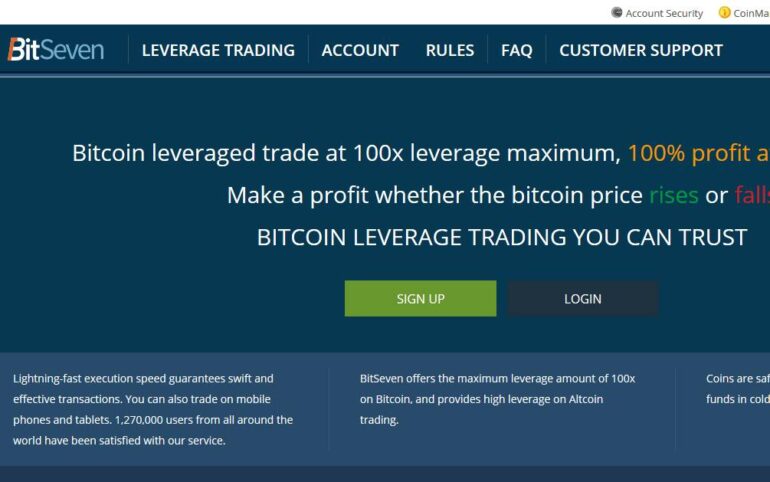 BitSeven is a new cryptocurrency margin trading broker established in the end of 2018. The platform is very professional so the company behind the trading platform seems to consist of a highly professional team of trading experts and developers.
BitSeven is not exactly as anonymous as the other brokers mentioned on this page, since the signup form asks for full name and a phone number (for 2FA authentication), but at least after signup no ID verification is requested before you're allowed to start trading.
Deposit and Withdrawal Methods – BitSeven allows BTC deposits and withdrawals only, which allows them not to claim IDs from their customers by default. However, the maximum daily withdrawal is 10 BTC.
Website Features – The trading interface is simple and clear and also allows new users to get along quickly. The trading engine allows bi-directional trading, meaning long and short positions for the same product at the same time.
Available Cryptocurrencies and Market – on BitSeven you can trade Bitcoin, Ethereum (50x leverage), Litecoin (40x leverage) and Ripple (30x leverage) in the form of derivatives.
Pros
Bitcoin and 3 altcoins tradable
High Leverage for BTC
Anonymous trading
Cons
Could offer more trading products
100x leverage only for BTC
SimpleFX.com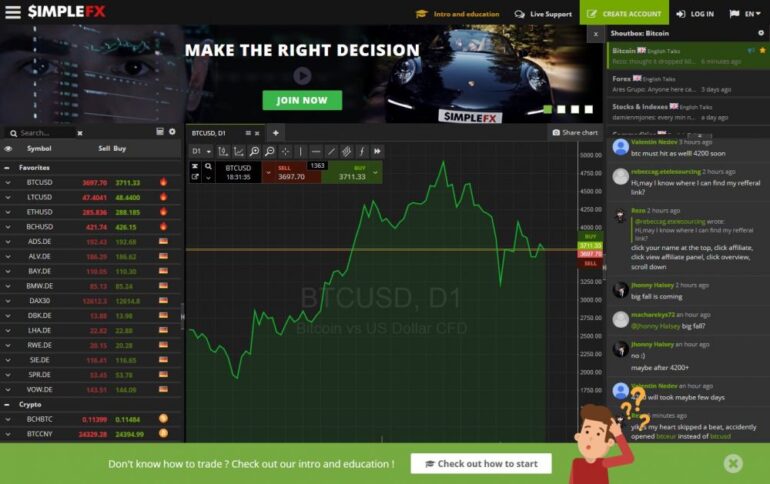 Indeed, creating an account is "Simple"! To create an account with SimpleFX.com, all you need to have is an active email and you're good to go! This is awesome since you can maintain that level of anonymity until you decide you want to use Fiat. Deposits in Fiat require photo ID and proof of residence. If you want to be an anonymous trader, we suggest sticking with crypto deposits.
Deposits and Withdrawals – The website operates within the boundaries of crypto trade if you want to maintain anonymity. They accept anonymous deposits from BTC, DASH, ETH, LTC, and Fiat options like Credit Cards, Skrill, Neteller, Wire Transfer, and a couple more.
Website Features – What's great about this website aside from the fact that it is super simple to create an account, they also offer Margin trading! In addition, the website supports users from the United States. They also have a live chat feature wherein registered users are able to talk to each other. Aside from that, the website also has a Demo account feature where you are able to test the features of their trading platform without spending any money.
Available Cryptocurrencies and Market – Here at SimpleFX.com, a registered trader can be able to trade crypto like BTC, ETC, ETH, LTC, and XRP. Aside from that, you are also able to trade Forex, Indices, Commodities, Precious Metals, Equities, and Stocks!
Pros
Demo Account
Accepts crypto payment
High Leverage
Anonymous Trading
Cons
Website latency issues
Negative reviews
Coinut.com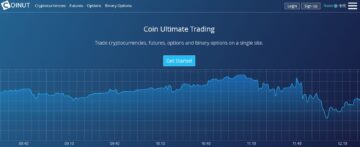 To create an account here at Coinut, you only need to have an active email account and a phone number, that's all you need! The website operates from Singapore and has been providing trading services since 2013. Here at Coinut.com, you are able to remain anonymous by choosing to transact with BTC or the available crypto selection under the deposit tab. USD deposit is possible but this would require additional identification.
Deposits and Withdrawals – Registered users of the website are able to deposit BTC, LTC, ETH, ETCH, USDT, BCH, and an option to do USD.
Website Features – Compared to other websites that have demo accounts, or "Copy Trade" features, here at Coinut.com, they do not have anything like that. All they can offer is the fact that their website does not have any lags, and operates exceptionally.
Available Cryptocurrencies and Market – The only market available to trade here at Coinut.com would be the crypto market. It is quite sad since we were expecting more than just crypto trade, but if you want a pure crypto website from deposit to markets, then this website is perfect for you!
Pros
Easy account creation
Accepts BTC and USD (optional)
Futures and Options available
Cons
Crypto-Market only
Limited number of pairs
Conclusion
Mentioned above are the best five anonymous trading websites in our opinion. We have talked about their main features and their differences along with their Pros and Cons per website. What we've noticed is that these mentioned websites above have similarities when it comes to being anonymous but have different features, fees and a whole lot more if you look into them closely. Again, we would just like to let you know that this is our own opinion and that the final decision will still be up to the trader. We would like to wish you guys good luck and happy trading!