BitMEX Alternatives
List of alternative BTC Brokers with Margin Trading:
Since Bitmex is charged by the CFTC for running an illegal derivatives trading platform and money laundering, traders are leaving the platform as fast as they can. And we recommend you to do the same – nobody knows when the platform gets shut down – and you might lose your funds when that happens.  The days of Bitmex are over, the platform lost most of its trading volume and their former CEO Arthur Hayes is on the run. This is not good at all – we recommend you to take a look at Bitmex Alternatives.
In this article, we will be talking about the "other" websites that offer margin trading as alternatives to Bitmex. We will be discussing the features, what their deposit/withdrawal methods are, and of course, how much leverage they are willing to provide to traders that would want to use their services.
PrimeXBT.com
PrimeXBT is a quite young cryptocurrency margin trading broker only existing since 2018. The platform has gained popularity quickly throughout it's first year due to it's highly interesting mix of features that make it an excellent alternative. Traders can also use leverage up to 100:1, not only for Bitcoin but even for the major altcoins which can be traded in PrimeXBT as derivative contracts.
Leverage – Traders are provided with 100:1 maximum leverage for both BTC as well as for all altcoins.
Trading – The broker offers limit and market orders combined with the most important advanced order types such as stop loss, take profit and OCO.
Trading Volume – Trading Volume is relatively high with PrimeXBT, and they work with platforms providing them with good liquidity
Limits – We are not aware of any limitations regarding withdrawals. But there are maximum position sizes for each trading pair. For BTC/USD the maximum exposure is 30BTC.
Verification – No KYC, with PrimeXBT there is no ID verification at all, the user back-end not even offers an option for that.
Fiat deposit/withdrawal – BTC only, fiat money is not supported.
Deribit


Deribit.com is a website that offers futures and options trading as well as leveraged trading for BTC. They also have openly announced that they store 95% of their coins in cold storage; plus no loss of funds since 2014. This makes them one of the best-trusted websites in the market today!
Leverage – BTC futures reach up to 50:1 leverage and 10:1 for options trading. Their BTC margin trading is definitely one of the higher ones offered in the leverage game to date.
Trading – Deribit.com traders will be able to use several orders like Limit, Stop-Limit, and Market Order which can come in handy if you are looking for a website that has more than just the usual buy/sell buttons.
Trading Volume – The trading volume of Deribit.com is not currently included in the coinmarketcap.com website, which is odd as we thought this website was one of the leading ones in terms of trading volume. Without the data of the given website, we are unable to give you guys the idea on how they are doing in terms of trading volume.
Limits – The website does not mention any sort of withdrawal limit.
Verification – 2FA can be enabled for your account but no verification is needed to create one.
Fiat deposit/withdrawal – Deposit and withdrawals are purely made in BTC.
SimpleFX
SimpleFX.com is a website modeled just like other trading platforms today but it has this distinct identity which gives them their unique feel and looks. If you have visited their website before then you would know what we are talking about.
Leverage – The website offers leverage of up to 6:1 for BTC trades. They do also offer leverage for other coins but for a lower value.
Trading – Trading is simple and straightforward. Traders will only have access to BUY/SELL trading buttons which they can access through the trading platform. No advanced order types.
Trading Volume – According to coinmarketcap.com, the website is not part of their database, which makes it harder for us to determine their actual trading volume. Or they simply do not want it to be public?
Limits – The website does not mention anything about withdrawal limits; which is of course, awesome!
Verification – As usual, verified account traders will be able to have access to major Fiat currencies for deposit/withdrawal.
Fiat deposit/withdrawal – Available Fiat currencies that they support here are: USD, AUD, CAD, IDR, CHF, DKK, EUR, JPY, NOK, PLN, RUB, and SEK.
Avatrade
The website does not purely provide support for crypto alone as they are considered to be one of the world's largest CFD broker.
Did you know that recently, Avatrade just landed a deal with Manchester City Football Club? The website has been providing trading services way before Bitcoin became a thing. And when it comes to experiences like that, it should never go unnoticed!
As mentioned, please be advised that this website is a pro-CFD broker, which means that traders will be cashing out Fiat currencies and there are no real crypto purchases being supported on the website. If you are a trader and you want leveraged trading minus the anonymity then this website is for you!
Leverage – The highest leverage being offered on the website is at 400:1. This would then depend on the asset you want to trade; for example, crude oil can be traded with 200:1 leverage. Read more about their leverage trading here.
Trading Volume – Compared to pure crypto websites that offer margin/leveraged trading, Avatrade is pretty awesome since they are able to reach $60 billion per month's worth of trade.
Limits – No limits mentioned online.
Verification – Verification doesn't seem to be that important for Avatrade since creating an account with them is a breeze. After creating an account you will be given the choice to go with a test account or a real one, after some time that test account expires and you are forced to create a real one. We were expecting some form of verification, but nothing, the new account was made and deposit with Fiat can be done.
Fiat deposit/withdrawal – There isn't any limit mentioned online, which makes us believe that they do not have any deposit/withdrawal limits.
CEX.io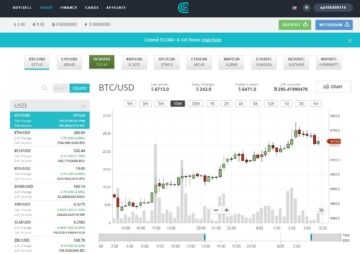 The CEX.io website is definitely easy on the eyes and easy to navigate with all the information needed to understand the services provided by the website. Languages supported are English, Russian, Chinese, Italian, Portuguese, and Spanish.
Leverage – The website offers 3:1 leverage for BTC/USD, BTC/EUR, ETH/BTC, and ETH/USD trading pairs.
Trading – Order types are Stop Loss, Limit Order, and BUY/SELL.
Trading Volume – the Trading volume of the website as per com is at $277 million for the recent month with a daily trading volume of $6 million worth. This places them miles away from the top ten performing platforms in general.
Limits – Unverified accounts can withdraw up to USD $1,000 on a daily basis with a monthly limit of USD $3,000. Verified accounts have three tiers and all have unlimited withdrawal limits.
Verification – Verification is not required to open up an account or withdraw but accounts have different limits depending on the level.
Fiat deposit/withdrawal – CEX.io accepts deposits through VISA, Mastercard, Bank Transfer, and Crypto Capital. Supported Fiat is USD, EUR, GBP, and RUB.
FXOpen

FXopen.com's website looks like a website from the early 2000's. Website design was definitely not in their minds when they created it and it surely needs to have a facelift if they plan to attract more customers.
Leverage – The website supports 3:1 leverage for crypto trading.
Trading – There are no special order types at FXopen.com which makes them one of the so-so platforms that offer leverage crypto trading.
Trading Volume – Volume of trade is not mentioned on the website and is also not covered by com.
Limits – There are no limits for crypto withdrawals.
Verification –is required for Fiat money transfers, if you are a trader that moves around with pure crypto services then verification isn't important.
Fiat deposit/withdrawal – Accepted currencies for deposit/withdrawal are BTC, LTC, ETH, USDT, EMC, USD, EUR, GBP, AUD, CHF, JPY, and RUB.
Bitfinex
The first thing that you will notice when you visit Bitfinex.com would be their awesome "clean" look that helps you focus on one thing alone; trading. Everything can be accessed through the home page with things like features, support, mobile access, social media, contacts, and legal links which makes everything much easier.
Leverage – Bitfinex offers margin trading of up to 3.33:1, which is on the lower side of margin trading compared to other platforms today.
Trading – There are more than just a couple of order types that a trader will be able to take advantage namely: Limit Buy/ Sell Order, Market Buy/Sell Order, Stop Order, Trailing Stop Order, Fill or Kill Order, OCO (One Cancels Other), Hidden Order, and Post-Only Limit Order.
Trading Volume – For the last 30 days, Bitfinex.com was able to reach $14 billion worth of BTC trades; which easily places them in the mid-range of trading volumes accumulated for a month.
Limits – What's amazing about this website is that they do not have any limits for cash outs.
Verification – Verified accounts will be able to have access to USD deposit/withdrawal services. Please be advised that the website does not accept US citizens (they accepted US citizens before) but this doesn't mean that US traders are unable to use some of their services; basically only the ones that require verification cannot be used
Fiat deposit/withdrawal – USD deposit/withdrawal is available only for verified traders.
Coinbase Pro (GDAX)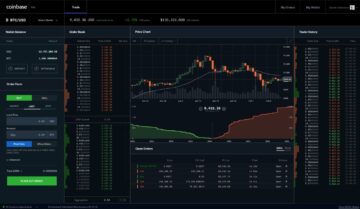 For all of you that know about GDAX, they are now known as Coinbase Pro. This means that old member of GDAX will automatically be members of the new website. Why change the old GDAX? Because of marketing opportunities that are brought by the name, or something between the lines! We included the name here to clear things up with GDAX since that old website offered up to 3:1 leverage trading which we are unable to find at the new website now.