BitMex Futures Explained
There could be a lot of different reasons why you want to set the future price of Bitcoin. Maybe you want to hedge against risk in your portfolio, maybe you want to speculate on future price or due to your business activity you want to manage your cashflow. Bitcoin futures are an effective way to set today the future price of an asset. And you can easily do this on BitMex using there futures contracts.
What are futures?

Let's see first what are futures and how do they work. Futures is a derivative contract where you enter into a deal to set the future price of an asset (in our case, Bitcoin) in the present time. There are two sides of a future contract:
Long futures contract means, by entering into the deal you have to buy Bitcoin at the preset price defined in the contract.

Short futures contract means, by entering into the deal you have to sell Bitcoin at the preset price defined in the contract.
It is important to see that entering into a futures contract involves a future obligation. If you entered into the deal unless it is canceled, at the end of the term you have to either sell or buy Bitcoin at the predefined prices no matter what is the current price on the market.
One really good benefit of futures that no money is exchanged at the time the contract is signed, you only need to pay or receive funds at the settlement date once the futures contract is ended. In case of cash settlement, only the difference is exchange at the end of the term, while at physical deliver the underlying assets are handed over which you can later sell for example on the market.
More about Bitmex:
When to use futures?
There could be several different motivations for entering into a futures contract, depending on your own situation.
Speculating with Bitcoin futures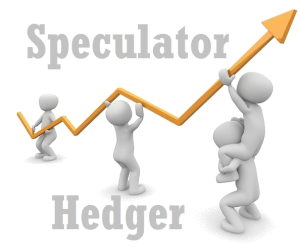 For example, you can think that the Bitcoin price in 3 month time will be +1000 USD higher compared to the market price seen today. You can enter into a futures contract to buy Bitcoin at the futures prices set today. If your prediction comes true and the Bitcoin price is indeed higher at the end of the term you can buy Bitcoin at the preset price. Since you got hold of Bitcoin at the cheap price, you can sell it at the market price earning you the difference between the futures price and the market price as profit. Of course, if your prediction did not work out, it means you have to buy Bitcoin at a price higher than the market price, causing you losses.
Alternatively, if you are speculating on Bitcoin price decline, you can enter into a short futures contract. In this case, you have to sell bitcoin in the future at predefined rate. If the market price is below this rate, you are lucky, as your counterparty will buy your sold Bitcoins at a higher rate. On the other side, if your speculation was wrong and the market price at the end of the term is higher than your predefined rate, you end up giving away your Bitcoin for less that you could have done on the spot market.
At the end speculating with Bitcoin futures comes down to the decision how do you see the market at the end of the term.
Hedging with Bitcoin futures
Bitcoin futures can be a very powerful tool to hedge against future price volatility. Many businesses are using futures in the traditional ecosystem to hedge against the price fluctuation of commodities or currencies.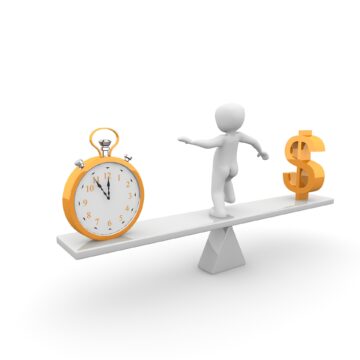 Depending on what is your position in the supply chain, both long and short futures can benefit you in term of managing risk of your portfolio.

Those businesses and individuals who are accepting Bitcoin as a payment method can use Bitcoin futures to minimize risk on the FX rate movements. If you know you are anticipating a bigger amount of incoming Bitcoin balance in the future, you can set the rate of these Bitcoin today, so you can make sure the Bitcoin price movements are not affecting directly your sales. With entering into a short futures, you have to sell Bitcoin at the predefined rate, which let you calculate your profit and losses on this deal easy and predictive even if the price of Bitcoin varies widely.
If you are on the other side of the supply chain and planning to pay for goods in Bitcoin in the future you can also use Bitcoin futures to hedge your position against price volatility. In this case you can enter into a long futures position through which you have to buy Bitcoin at a certain rate. Given your Bitcoin price is set today you can sit back and relax knowing the amount of money you have to pay for the goods and services will not change, even if the price is set in Bitcoin.
Long and Short Bitcoin Futures
As discussed earlier, there can be different situations when you can turn to Bitcoin futures, either in the hope of gaining profit through speculation or to mitigate risk by maximizing the losses with hedges. Both long and short positions have their appropriate market timing depending on your needs.
Long Bitcoin Futures
Long Bitcoin futures are worth entering when you are bullish on the cryptocurrency market's future, but you are not certain about the magnitude of the expected price movement. In case of a long futures contract, no matter how much did the price increase you will win on the position. If you have an idea about how much the Bitcoin price will increase, other more complex trading strategies might be a better fit for you with can have larger profit potential with less risk.
In case of a Bitcoin futures contract, your profit increases together as the market price of Bitcoin increases. Your profit is the exact difference between the predefined futures price and the market price at expiration. Your loss will, however, increase with every second the market price is declining. Long futures have a limited downside risk theoretically since the price of Bitcoin cannot go below zero dollars.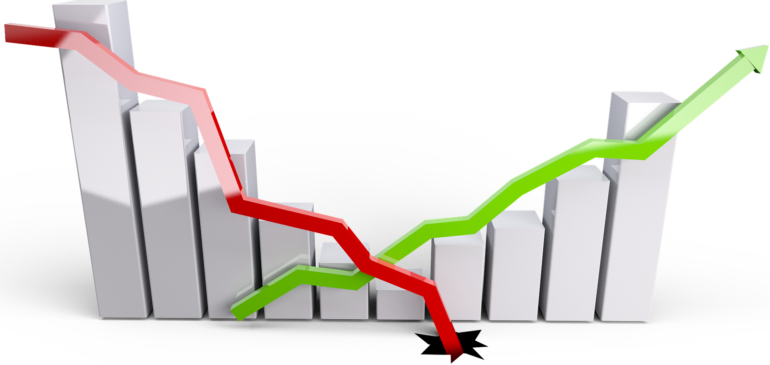 Short Bitcoin Futures
Short Bitcoin futures are designed for those who think Bitcoin price will fall in the future. In this case, your opinion is limited to the bearish outlook again. If you can quantify the movement you expect the prices to decline by, another complex strategy might be a better fit for your situation as the downside risk of the short Bitcoin futures are unlimited. so make sure you are prepared for margin calls in case you use leverage on the position.
Your profit on a short Bitcoin futures is increasing with every single penny the Bitcoin price declines. On the other hand your losses are unlimited if the Bitcoin price goes to the Moon.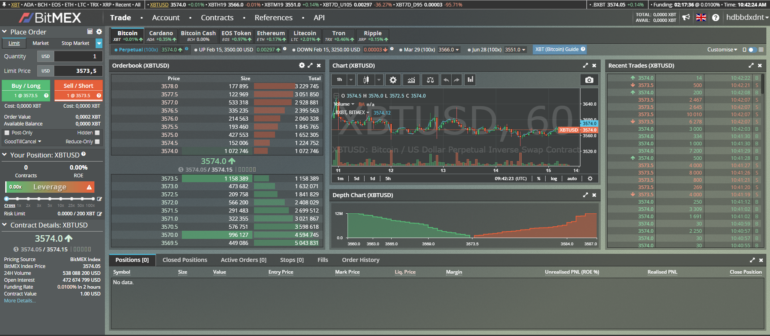 Futures trading on BitMex
BitMex offers Futures contract with several different expiration term in the form of cash settlement.

When you enter into a Futures contract you are required to maintain a level of margin to make sure you will be able to deliver at the expiration of the contract. However the good news is that you do not need to post collateral the 100% of the positions, so you can use leverage up to 100x on some of the BitMex contracts offered. All of the margins are denominated in Bitcoin, so no need to calculate with the price volatility of the collateral as well.
Components of the futures contract on BitMex
There are a couple of key components and terminology you must be familiar with before start trading with futures on BitMex.
Multiplier

: How much is one contract worth? You can see this information under the Contract Specifications for each instrument.

Position Marking

: Futures contracts are marked according to the

Fair Price Marking

method. The mark price determines

Unrealised PNL

and

liquidations

.

Initial and Maintenance Margin

: These key margin levels determine how much leverage one can trade with and at what point liquidation occurs.

Settlement

: How and when the futures contract expires, or settles, is important for traders to understand. BitMEX employs an averaging over a period of time prior to settlement to avoid price manipulation. This time frame may vary from instrument to instrument and traders should read the individual contract specifications to see when is expiry and the individual settlement procedure.

Basis

: The basis refers to what premium or discount the futures contract trades at when compared to the underlying spot price and is usually quoted as an annualised %. Basis exists since futures contracts expire in the future and there is either a positive or negative time value element attached to that expiry uncertainty.
Naming convention
The name of a BitMex futures contract consist of the following items:
Underlying instrument + expiration date, where the expiration date = month code + year
First of all, BitMex uses XBT as the symbol of Bitcoin, which you might find else (like BTC) on other exchanges. Beyond Bitcoin, you can also enter into a futures contract in seven other cryptocurrencies including Cardano, Bitcoin Cash, EOS, Ethereum, Litecoin, Tron and Ripple.
BitMex is using an industry standard for specifying the month codes for the Bitcoin futures contracts. You can find the very same naming convention on the world's biggest derivative exchanges just like on NYMEX or CME.
The month code always defines the delivery month of the futures contract. Here is a complete list of month codes used on BitMex for the futures contracts.

Let's see an example of how a Bitcoin futures contract is represented on BitMex.
XBTH19 refers to a Bitcoin futures contract where the expiration month is H, which equals to March in the year of 2019. This futures contract is settling on the BXBT30M Index, meaning at expiration the market price is determined based on this index. Each contract worth 1 USD of Bitcoin.
Fees of traditional futures on BitMex
BitMex applies a maker-taker fee schedule for future contracts. This means the market makers who provide liquidity to the market can enjoy a lower fee. Make sure you are up to date with the most recent fee schedule BitMex offers.
You can also find that the different cryptocurrency futures has different leverage rates. Bitcoin futures are offered up to 100x leverage, however, for smaller coins, BitMex only offers 20x leverage rate. The Maker fees for Bitcoin is 0.025% while the taker fee is 0.075%.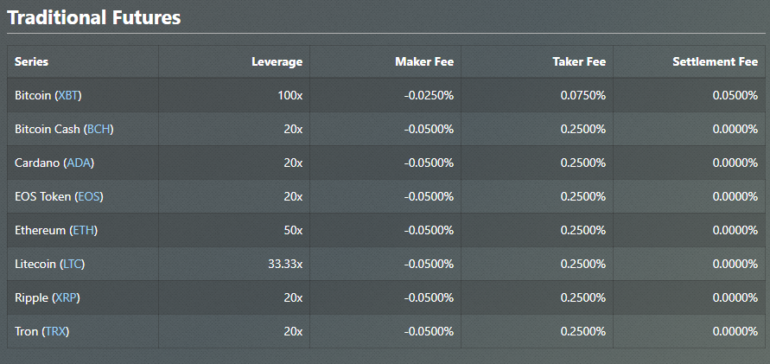 Bear in mind also that at the time of settlement any open position in contracts will attract the settlement fee, which is 0.05% in case of Bitcoin futures.
Entering into a Bitcoin futures position on BitMex
Register at BitMex
In order to use BitMex services, you need to register an account with them. However don't worry, you only need to provide an email address and a password to start trading, so you can setup your account fairly quickly.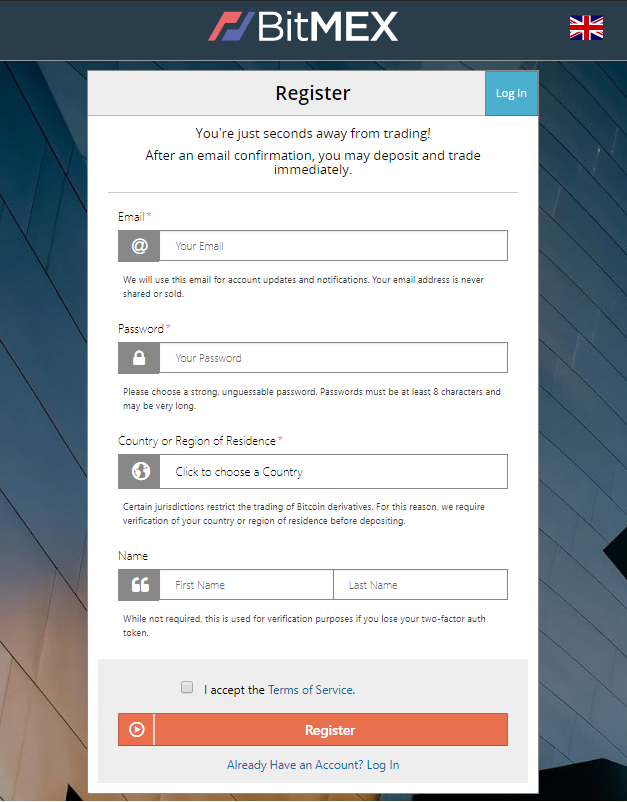 Deposit Bitcoin on your account at BitMex
Go to Account / Wallet / Deposit where you will get your own QR code and the unique deposit address where you need to send the funds to. Go into your wallet and send over some Bitcoins to this address. Only Bitcoin deposits are allowed at BitMex, so do not send any other cryptocurrency to this address. Once you have some funds on your account, you will see it under your balances.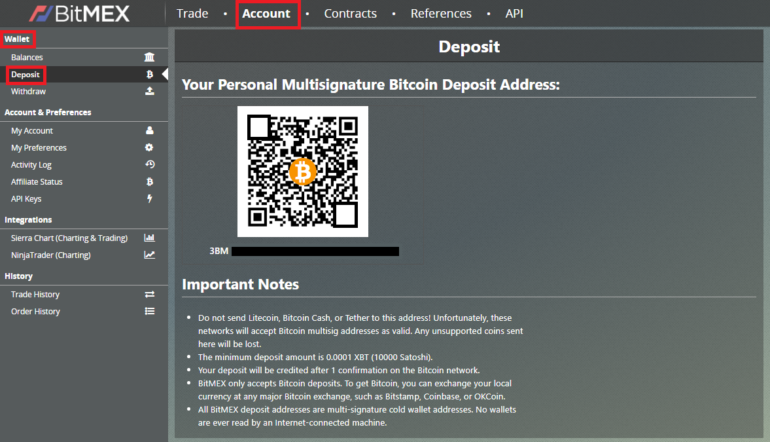 Select a currency for which you want to open a futures contract
Under the trading tab, you can find the various futures available on the top middle trading box. First, you need to select a cryptocurrency from the eight available ones on which you want to open a futures trade. For Bitcoin 3 month and 6 month contracts are available, for other cryptocurrencies only one expiration date is available. If you select one futures, it will become blue colored with a small dot against it. You can always check the info box at the left bottom corner about the contract details you are viewing at the moment. Here we selected the Bitcoin futures with is expected to expire in March 29.

Decide if you want to go long or short

Remember, a long futures contract means you will have to buy Bitcoin at the rate you see now, while a short futures contract means you will have to sell Bitcoin at the rate you see.
Choose an order type
There are more than ten different order type combination you can choose from depending on what is your preferences. Beyond market, limit and stop orders advanced order features are also available at BitMex.
Increase your leverage if you want
On the left site you can increase your leverage up to 100x in case of Bitcoin futures and 20x in case of other crypto futures. BitMEX employs a sliding-scale Risk Limit function. In case of Bitcoin futures, the base risk limit is 200 XBT. For every 100 XBT increase in position size, the maintenance & initial margin requirements rise by 0.50%.
Enter into the futures contract with hitting Buy or Sell buttons.

Conclusion
Bitcoin futures on BitMex solves a long-standing problem on Bitcoin price volatility. With the derivative instruments, you can speculation on the future price direction or you can hedge your risk against unwanted price appreciation or depreciation. No matter if Bitcoin price goes up or down you can be sure that Bitcoin futures on BitMex can be useful for you in case you are worried about price movement of the cryptocurrency.