Best Brokers to Copy Traders
We know how hard it is to find the best website that offers "Copy Trading". Copy trading is a feature that not all brokerage websites have. This is one of the features that most people, especially new traders would like to get into since it shoots them right out of the learning curve and helps them earn as fast as they can. We're not saying that you do not need to learn anything in order to earn, you still need to read about trading and stuff, but you can easily follow trades and make it easier to both earn and learn at the same time.
Websites that offer copy trading can be very useful for a new trader especially if they have the money to trade! Why? In websites that offer this feature, registered customers are able to copy successful trades from veterans of trading. On the other hand, if you are too a veteran trader, you are able to earn money while you share your trades with other members of the website.
Today, we will be looking into two significantly websites that have the "Copy Trading" feature. One of which offers real-world market trading with the use of BTC and the other has the ability to offer BTC trades but with the use of Fiat currency. We will be looking into their features, and try to highlight their differences in points. Without further delay, let's talk about the best brokers with copy traders!
The Top Brokers to Copy successful Traders
eToro.com

As mentioned in this review eToro.com is often mistaken as an exchange website, but in fact, they are an online trading platform. The website has been blasting the internet with their Ads and there is a huge chance that you might have clicked on one of those Ads in the past. Based in Tel Aviv, Israel, the website was founded way back and is being regulated by CySec, ASIC, and the FCA.
How do you create an account with them? Is it a pain? Surprisingly, not! A regulated website such as eToro.com does not waste your time when it comes to creating an account with them. When creating an account always make sure that you complete the profile as this removes the limitations that are provided in a stock account.
Website – Their website is stunning! Everything is designed professionally and you would not have a hard time going around. Compared to traditional trading platforms where everything is everywhere, the website of eToro.com is perfectly designed. Not only is it esthetically pleasing.
Payment Methods – When it comes to payment methods, eToro.com is different from your typical BTC trading platform because they do not accept BTC payments. The only payment methods they accept are Credit/Debit Cards, PayPal, Wire Transfer, UnionPay, Skrill, and Neteller.
Available Markets – Here at eToro.com users are able to trade Crypto, ETF's, Stocks, Indices, Commodities, and Fiat. You can get lost in the myriad of possible trading pairs but in a good way!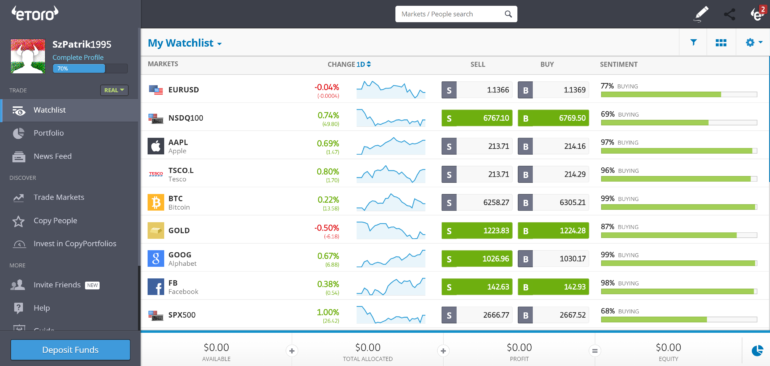 Past performance is not an indication of future results.
On the screenshot provided above, you can see the copy people page which can be accessed through the left-hand side of the account page. This can be seen once you have logged into your eToro account. We have also highlighted important parts of the screenshot for you guys to pay attention to when it comes to copying trades.
Shown in the screenshot are the "Trending" and "Most Copied" traders that users are able to copy trades with. The tab consists of different classifications. These classifications are namely "Editor's Choice" where the top traders are posted above along with a short description of their trading background within the website. Followed would be the "Top Investors" and next to that are the Trending and Most Copied people. On the bottom part of the page, we've got the "Lower Risk Score" traders and next to that would be the "Medium Risk Score" traders. Read more about the full review of the website here.
Here at eToro.com, the minimum amount to invest in a trader is $200 and the maximum number of traders you are able to copy simultaneously is only 100. Investments can be done on listed traders of the website, this is to broaden your income range and of course, fund the trader you think is good at what they do. The minimum amount that you are able to copy trade is $1.00 and anything below this will not be opened. Learn more about the copy system here.
Pros
Educational Materials
Verification process is so easy
Copy Trading
Virtual account
Cons
No BTC transactions (deposits & withdrawals)
Limited crypto pair trades
CFDs are complex instruments and come with a high risk of losing money rapidly due to leverage. 75% of retail investor accounts lose money when trading CFDs with this provider. You should consider whether you understand how CFDs work and whether you can afford to take the high risk of losing your money.
Cryptoassets are highly volatile unregulated investment product. No EU investor protection. This content is intended for information and educational purposes only and should not be considered investment advice or investment recommendation.
Past performance is not an indication of future results.
1Broker.com
** 1Broker is down, it was taken offline by the FBI. You can only withdraw your funds at the moment, no trading possible. **

Now we're on to our second website which is 1Broker.com. The company was founded in 2012 and is located in the Marshall Islands. To create an account with them, just head on to their website and provide a username, email, and a password for your new account and you're good to go! Unlike eToro.com where you need to find the copy people tab, here at 1Broker.com, this is what you see when you log into your account.
What we like about 1Broker.com is that the risk levels are easily understood because when you click on the risk level, this will show you exactly what each level means. Below are the risk levels for 1Broker.com.
Risk 1 – Very Low Risk – 2%
Risk 2 – Low Risk – 4%
Risk 3 – Medium Risk – 8%
Risk 4 – High Risk – 16%
Risk 5 – Very High Risk – more than 16%
The risk levels are also color coded Blue being the lowest risk and Red for the highest risk level.
Is the website regulated? The website runs purely on BTC and is an offshore company, which means that they are not regulated by any governing body. This is their obvious difference between the two websites that we have looked into today. 1Broker.com only accepts BTC payments and all transactions are in Bitcoin as well, this means that even the withdrawal methods are made in BTC.
Website – The website is very easy on the eyes as they have gone with the "minimalist" design of the website. This means that there is less clutter compared to other trading websites today. Compared to eToro, they are on equal footing when it comes to website design.
Payment Methods – As mentioned above, the website only accepts BTC. This is great for people that love to trade in anonymity because there are no bank trails left. With the use of Bitcoin, every trade and copied trade is away from prying eyes.
Available Markets – Here at 1Broker.com, you are able to use your BTC and trade Forex, Stocks, Indices, Commodities, and Crypto. Available cryptocurrencies you are able to trade here is currently limited to BTC/USD pair.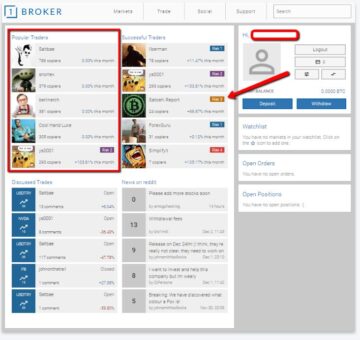 Straightforward, is the word that explains this website! Shown in the screenshot above is the 1Broker.com user interface. Everything about the copy trade system can be found here. Above would be the Popular Traders, Successful Traders, and Discussed Trades below. It's probably a simpler version of what eToro has but definitely not less informative. To copy a trader here at 1Broker.com you get to pay 2% of the total trading value. And the minimum margin to copy a trader is 0.001 BTC. Read about the complete fee schedules by clicking this link.
Pros
Trade with Bitcoin
Copy Trades
No minimum deposit
Cons
Only Accepts BTC
Unregulated
Conclusion
The mentioned websites above clearly have differences when it comes to providing different niches of online trading. One of the obvious differences would be the currencies they accept and trade with. They also have different stands when it comes to being regulated but both are popular in the "Copy Trade" system. By the end of the day, it would still be your final decision on which website you want to go with. Is it eToro.com or 1Broker.com? The final answer would still be yours! For now, we would just like to hear back from you guys and suggest other websites that offer copy trades in the comment section below. Good Luck!