FTX.com Review
Company Location
Hong Kong
Currencies
BTC, ETH, LTC, BCH, USDT, FTT, BNB, FTT
Fiat Currencies
USD, EUR, GBP, AUD, HKD, SGD, TRY, ZAR, CAD, CHF, BRL
Order Types
Market, Limit, Stop-loss limit, Stop-loss Market, Trailing Stop, Take Profit, Take Profit Limit
Payment Methods
Credit Card, Debit Card, Wire Transfer, SEPA
FTX is a derivative trading platform specialized in cryptocurrency products. You can trade up to 101x leverage on bitcoin and altcoins and even bet for the presidential elections using the platform's own ERC-20 tokens. Low fees, tight spreads, deep order books – this is what FTX.com offers for crypto traders. Let's dig into the details.

About FTX.com
Founded in 2018 by ex-hedge fund strategies Sam Bankban-Fried and ex-Google employee Gary Wang, FTX.com is quickly gained traction on the trading market due to their unique product offerings.
The company is incorporated in Antigua and Barbuda and backed by Alameda Research, one of the biggest cryptocurrency liquidity providers on the market. Sam, the CEO of FTX.com is currently working from the Hong Kong Headquarter of FTX, beyond fulfilling his duties as the CEO of Alameda Research. Gary acts as the CTO of FTX.com responsible for the technical side of the trading platform.
The company is very active on various social media platforms including Facebook,
Youtube, Twitter, Linkedin. Their blog is particularly useful for understanding how the markets and leveraged trading work. If you want to reach FTX.com, you can contact them on Telegram and WeChat.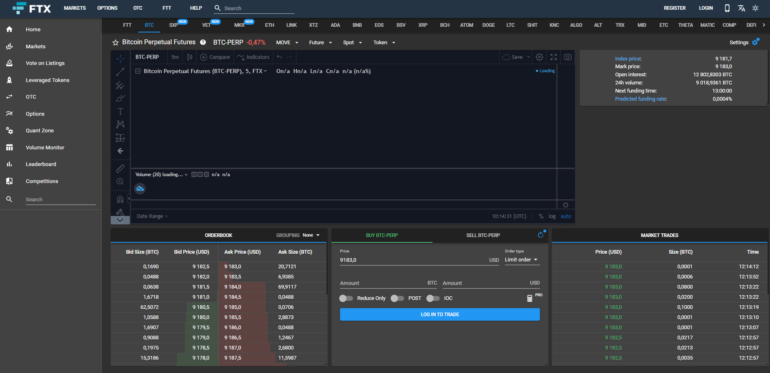 Registration and verification
You need an email and a password to sign up at FTX.com and you will be immediately prompted to set 2FA to secure your account using SMS or an authenticator application.
KYC is not mandatory on the platform upon registration, but if you do not verify your account your lifetime withdrawals are set to 1000 USD and you can only fund your account using cryptocurrencies in this case. There are three additional tiers for verification on FTX. For the Level 1 verification, you only need to provide your name and country of residence to lift the withdrawal limit to up to 2000 USD daily. If you want to get rid of withdrawal limits, you need to pass Level 2 and Level 3 verification where you will be asked first to provide personal identification documents and proof of your residency and later on financial information, like bank account statements.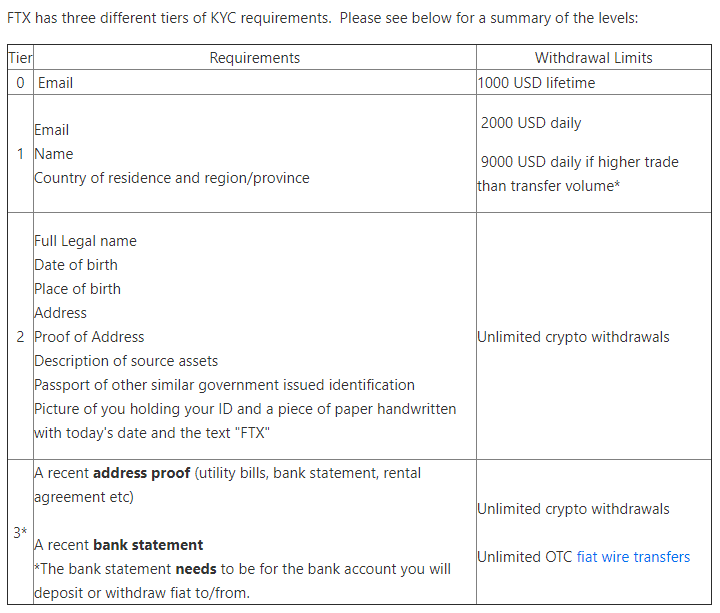 To fund your account you can use bitcoin and 10 other altcoins, including FTT, FTX.com's native token. You can also deposit stablecoins, like TUSD, USDC, PAX, BUSD, and HUSD and if you have passed level 2 verification you can also purchase bitcoin directly on the platform using their partnership with Simplex.
It is important that whatever coin you choose to fund your account, make sure you are using the right address for it. Blockchain transactions are irreversible, if an altcoin is sent to the incorrect address your coins can be lost forever! This is particularly confusing for leveraged tokens, which are ERC-20 issuances, so in case you want to deposit a bitcoin leveraged token, you have to deposit that t using the Ethereum blockchain, not the Bitcoin blockchain. Make your you familiarize yourself with how these token work to avoid any unnecessary loss of coins.
Features of FTX.com
You can trade with bitcoin on the spot market, on the futures market with 3 to 6 months expiry and FTX.com also offers the option to trade with a perpetual futures contract that does not have any expiration date. Trade with the volatility of the bitcoin price using the BVOL token or use the leveraged tokens to benefit from large price swings. For most of the coins both spot, futures, and leveraged token trading are available.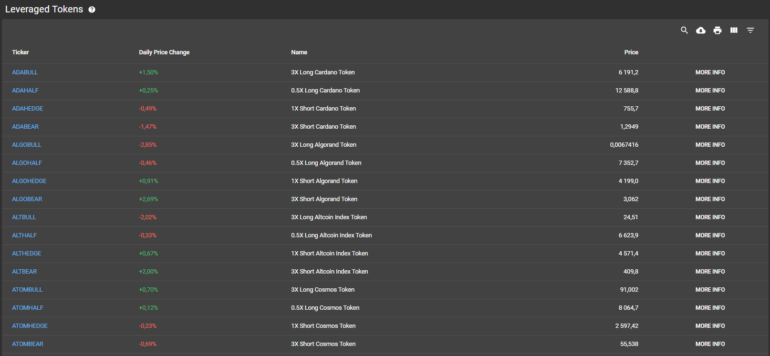 Beyond trading bitcoin and a lot of different altcoins, at FTX.com you can also invest and trade with special leveraged tokens specifically designed to profit from market movements. There are BULL and BEAR tokens of a single coin pair that is offering high leverage in a given market direction. If you do not want to decide where the market will move forward the MOVE tokens will be your best bet as these are yielding profit in case there is any movement to the current price in any direction.
The leveraged tokens can be withdrawn and also traded on other exchanges, such as BitMax or Poloniex. The platform also offers its own native token FTT that can reduce your trading fees if you opt to pay fees in FTT.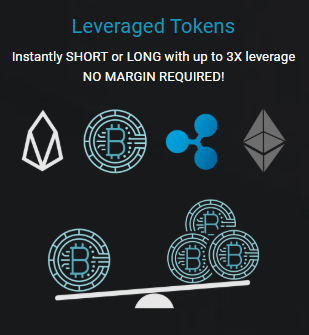 Cryptocurrencies are not the only assets available for trading on FTX. Trade with commodities like gold and silver or even oil on FTX. Furthermore, you can place a bet even on the presidential elections on the US – each candidate has a unique coin that is available for trading. The election tokens are futures contracts that expire with the price of $1 if the candidate wins, and otherwise, as $0 is he does not win.
You can create custom strategies using the platform's build-in engine to deliver your order automatically based on your unique indicators and insights. If your strategy is profiting well and you want to share with other users, you can even earn extra cash for opening it up to the audience. Alternatively, you can also sign up for strategies build by fellow users to increase your profitability. FTX.com supports more than 10 different algotrading and backtested tools, listed in their integrations page here.
Supported Coins
Supported cryptocurrencies:
BTC/USD, ETH/USD, LTC/USD, BCH/USD, USDT/USD, FTT/USD, BNB/USD, FTT/BTC, FTT/USDT, TRYB/USD, BTMX/USD, PAXG/USD, XAUT/USD
USD are referred to the following stablecoins:
TUSD, USDC, PAX, BUSD, and HUSD.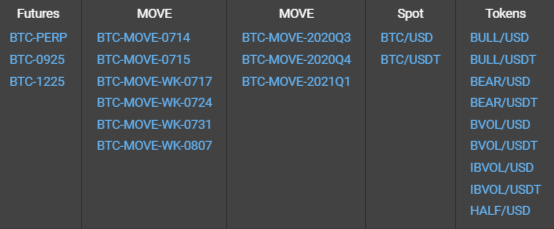 Leveraged tokens:
BEAR/USD, BULL/USD, ETHBEAR/USD, BSVBEAR/USD, XTZBULL/USD, BSVBULL/USD, ETHBULL/USD, LINKBEAR/USD, ALGOBULL/USD, LINKBULL/USD, TRXBULL/USD, XTZBEAR/USD, XRPBULL/USD, BCHBULL/USD, EOSBULL/USD, BNBBULL/USD, ETCBEAR/USD, ALGOBEAR/USD, ATOMBULL/USD, OKBBULL/USD, XRPBEAR/USD, LTCBULL/USD, BEARSHIT/USD, BNBBEAR/USD, ALTBULL/USD, BCHBEAR/USD, MATICBULL/USD, ALTBEAR/USD, TOMOBULL/USD, MIDBULL/USD, OKBBEAR/USD, LTCBEAR/USD, ETCBULL/USD, EOSBEAR/USD, HTBULL/USD, DOGEBULL/USD, BULLSHIT/USD, DRGNBULL/USD, DOGEBEAR/USD, MATICBEAR/USD, BTMXBULL/USD, ATOMBEAR/USD, ADABULL/USD, EXCHBULL/USD, TOMOBEAR/USD, PAXGBULL/USD, PAXGBEAR/USD, LEOBEAR/USD, TRXBEAR/USD, ADABEAR/USD, PRIVBULL/USD, XAUTBULL/USD, MIDBEAR/USD, PRIVBEAR/USD, HTBEAR/USD, DRGNBEAR/USD, BTMXBEAR/USD, EXCHBEAR/USD, TRYBBEAR/USD, TRYBBULL/USD, LEOBULL/USD, USDTBEAR/USD, USDTBULL/USD, XAUTBEAR/USD
The leveraged tokens, including the platform's native coin, FTT are all issued using the Ethereum network's ERC-20 standard.
Trading Fees on FTX.com
FTX.com offers a volume-weighted maker-taker fee model. The maker fees are starting from 0.02% and the taker fees from 0.07%. You can reduce the trading fees by 60% holding FTT tokens, the platform's native token.

If you engage in leveraged trading, you need to pay attention to the leveraged token creation and redemption fees which are both 0.1%. There is also a daily management fee of leveraged positions charged at 0.03%.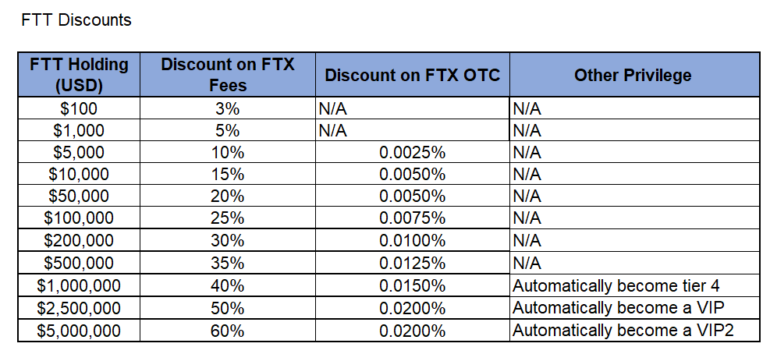 You do not have to pay for deposits or withdrawals on FTX. Also, future contract settlements are not charged on FTX, only the leveraged deals as detailed above.
Security and Support
FTX.com has listed a lot of different security features that can help to protect your account. 2FA is required for all deposits and withdrawals. They are tracking any suspicious activity and notify users in case of any unexpected happens with the account. You can use subaccounts to mitigate the risk of being liquidated in a single position.

FTX has recently partnered with Chainalysis blockchain analytics firm to monitor transactions in real-time to combat money laundering. In addition to this, the also review manual suspicious deposits and withdrawals to provide an extra layer of security.

The FTX Insurance Fund is holding more than $16M to protect user funds from potential future losses.
Should have any questions, you can contact FTX.com on various channels if you cannot find an answer to your question in their in-depth FAQ page. Their Telegram support is available in 12 different languages, including English, Chinese, Vietnamese, Russian, Turkish, Taiwanese, French, Korean, Indian, Spanish, Portuguese, and Dutch.
The website and the content of their supporting pages also translated into 12 different languages similar to the Telegram support channels.
Up to now, there were no scam reports on FTX.com, but their users are not too active on social media platforms. Some users started to warn others regarding the volatile nature of leveraged tokens in various posts, like this in Reddit and recently Binance also delisted some of their leveraged tokens as they deem it is too confusing to their users. Worth to highlight just a couple of weeks after delisting FTX's leveraged tokens, Binance introduced its tokens, so their reasoning for delisting is a bit vague. Nevertheless, take your time to understand how the payout and margin calls work for these leveraged tokens.
Conclusion
FTX.com is a popular cryptocurrency derivate platform where you can trade bitcoin, altcoins on the spot and futures market, and also engage in leveraged trading using specifically designed leveraged tokens. Beyond crypto assets, you can also trade commodities using bitcoin deposits and bet on the results of the presidential election. The trading fees are reasonable on the platform and you can choose from a lot of different coins to deposit. KYC is not mandatory, but it is increasing your daily limits significantly and also provides access to fiat payments. The trading platform is built in a way to help to onboard and provide a great trading experience even from newbie traders, however, the leveraged tokens are complex products that need to be understood before risking a significant amount of capital.
Pros
unique exotics products
buying bitcoin with credit card
no KYC (with limits)
Cons
fiat coins are not supported, only stablecoins and bitcoin purchases
complex product not suitable for newbies
not available for US users
Go to ftx.com