IQoption.com Review – Facts, Pro´s and Con´s on IQOption.com
Company Location
Agios, Cyprus
Currencies
Zcash, Omisego, Dash, Ethereum, Ethereum Classic, Monero, Litecoin, Bitcoin
Fiat Currencies
EUR, GBP, RUB, USD, JYP, NZD, AUD, CHF, CAD
Payment Methods
Credit Card, Neteller, Skrill, Wire Transfer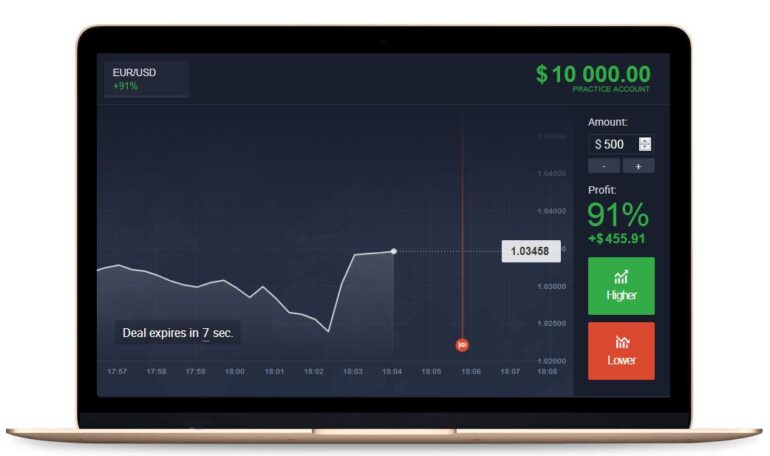 When you first visit the website of iqoption.com, the first impression would be, "Spotless". The website was clearly designed to be of minimalist standards which clearly impressed me. Clean, spotless design with direct to the point texts inviting you to create an account with them. If you are familiar with trading platforms/websites today, they design their websites to look like online casinos that look really cheap. The design factor of this website is a huge plus for me which makes me eager to know more about them.
Review Contents
Today, we will be looking into more than just their façade and look into what they have in store for customers. We will be creating an account, we will try and do a test trade and learn more about them together.
So what is iqoption.com? The trading platform was established just recently in 2013. Compared to most of the top trading platforms today that have been operating near the decade level, this website is fairly young and has a lot to prove. The platform is managed by a Cyprus Investment Firm (CIF) which is called IQ Option Europe Ltd. and is, of course, regulated by CySEC. Their office IQ Option Europe Ltd. is located in Agios, Cyprus.
Account Creation and Trading
To create an account, we first need to head to their website and click on the "REGISTER NOW" button which you will not miss due to the location of it. And of course, the green color that it is made off! To create an account, all you need to provide is an email address and a password for your account, nothing more, and nothing less. But after providing the said information, you need to confirm a link which will be sent to the provided email address, my advice? Use a real one.

Right off the bat, after you click on the confirmation link sent to your email you will be redirected back to the website and logged into your account. What I immediately hated was the "VIP" treatment for people that are willing to deposit a few thousand dollars more than their minimum required. There's nothing wrong with premium membership rights, it's actually quite advantageous for hardcore traders, but this scares away potential beginners that would like to try out the website. If you want to read more about their VIP special privileges then click here.
Basically, the VIP option gives you more than a regular account. They promise to give you an increased profitability and provide you a personal "VIP Manager" who will guide you in your investments. Sounds like pure propaganda to me, anyways, let's continue with our account.
Trading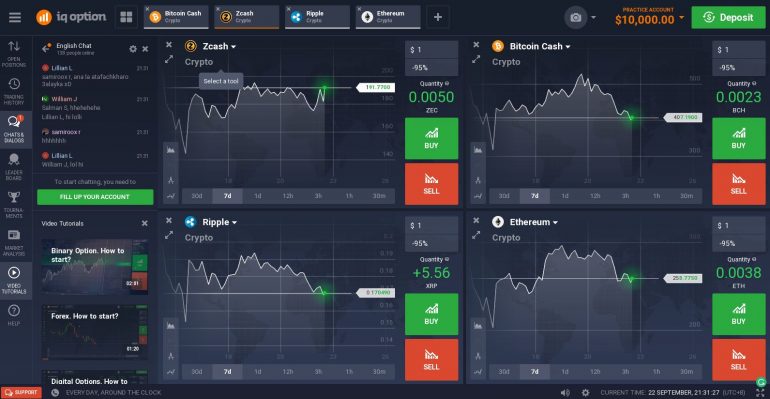 I skipped on the deposit window and clicked on the box saying "Start Trading Now" something which was located on the upper-right hand corner of the account screen. You will then need to wait for the trading platform to load up, this means that you need to have a really good internet connection to even see what is happening inside. Great thing is that once you are inside, you are now able to choose from a real account and a Practice Account with $10,000 virtual dollars in it.
Your practice account allows you to trade using the virtual dollars without any restrictions from the real account. This means that even if you are on a practice account, the learning is still there. Mistakes, however, are not felt as heavily as a real account, but you get the gist out of everything that is happening in front of you.
Of course, we will be trading with Crypto Currency. You are able to change this by clicking on the huge Plus sign that is located in the upper part of the trading screen. With this button, you are able to choose from Forex, Crypto, Digital, Binary, and CFD Trading. For Cryptocurrency, we have Zcash, Omisego, Dash, Ethereum, Ethereum Classic, Monero, Litecoin, and of course, Bitcoin.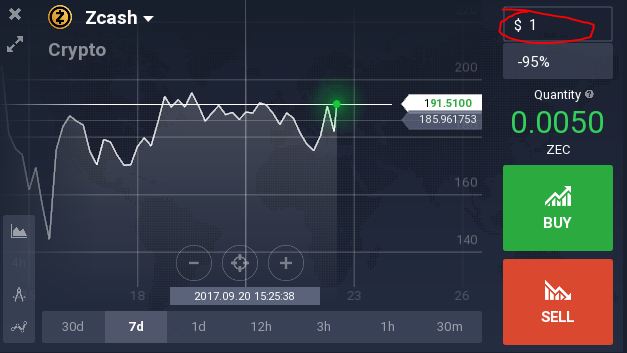 How do you purchase? That's really simple, just click on which currency you want to invest in and start investing on the numbers that you are comfortable with. Please be advised that the button saying "Buy" is going Long and the button saying "Sell" is going Short. If you do not know these terms, please feel free to read more about it here.
What I like about their trading platform is the fact that the trading platform itself is crisp and informative. You get a ton of information just by looking at the platform if self.
Deposit and Withdrawals

Right after you complete a registration process, you will then be greeted with a page that would ask for your credit card information, amount you want to deposit, and what currency you are willing to pay with. If you ask me, I do not like this kind of treatment; they act like an online casino that shoves the deposit slip right in your face without giving you time to think.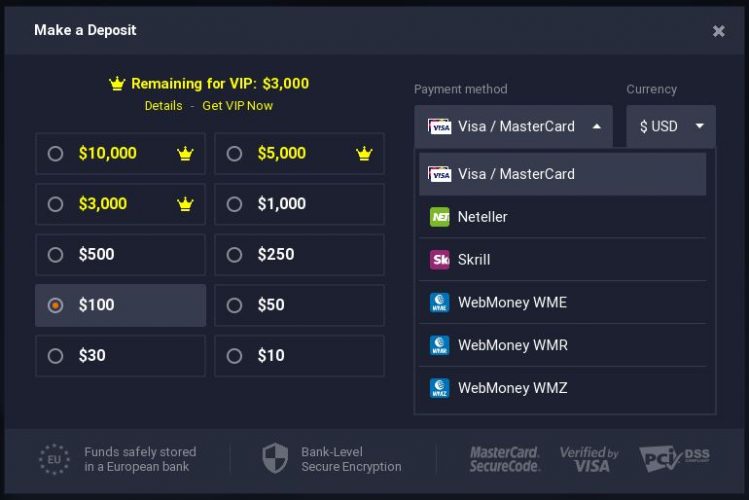 The minimum deposit is $10 and the maximum is $10,000.They also have different VIP levels depending on how much you are willing to spend on your first deposit (this was discussed earlier in this review). Payment options that are being accepted are as follows Credit Card, Neteller, Skrill, and WebMoney. The currencies that are being accepted are EUR, GBP, RUB, and USD. To prevent money laundering, the withdrawal method would be the same as your deposit method. The minimum withdrawal is $1 and no maximum withdrawal limit. Please be advised that withdrawals are processed within 24 hours prior to being requested.
Available Trades
Here at iqoption.com, you are able to trade different assets such as:
Forex
US Stocks
Global Stocks
Indices
Commodities
Available Account Types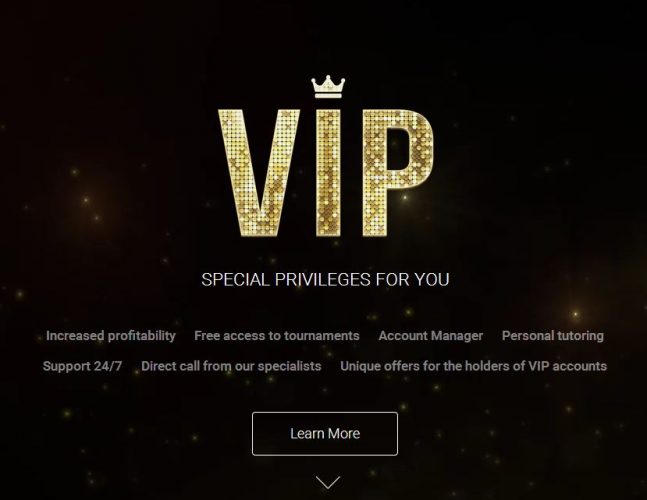 There are different account types that you are able to use and access here at iqoptions.com. As you might have figured out by now, they have a VIP trading account. Aside from that, they have a Standard and Demo account that you are able to use.
VIP Account – With a minimum deposit fee of $3000, account holders can earn 3% extra for every payout. They will have their own personal manager and more advantages!
Standard Account – A standard account are all accounts that are not considered VIP. With $10 you can open up a standard account with iqoptions.com and start trading.
Demo Account – The one that we tried earlier to access was a Demo Account. Demo accounts are free of charge and you do not need to deposit money in order to get one. What's great about their demo account is that you get all the services of a Standard Account.
Trading Education
Not all of our readers are savvy traders, which makes this website even better due to the educational options that they have ready to be used for your advantage. They have a range of educational tools that you are able to use to your advantage in the world of trading. They also have videos like How to trade Binary options, and how to read indicators. You can read more about the available educational information here.
Accepted Countries
These are the accepted countries that are able to transact with iqoption.com.
Austria, Bulgaria, Croatia, Cyprus, Czech Republic, Denmark, Estonia, Finland, France, Germany, Greece, Hungary, Iceland, Ireland, Italy, Latvia, Lichtenstein, Lithuania, Luxembourg, Malta, Norway, Poland, Portugal, Romania, Slovak Republic, Slovenia, Spain, Sweden, The Netherlands, United Kingdom.
IQ Option Features and Customer Service
Aside from the fact that they boast a really awesome web trading platform with an intuitive and interactive design! This website is also capable of catering an International audience. With 14 available Languages to choose from, it is really an above average platform! When it comes to customer service, they also offer a multiple lists of Languages four or non-English speaking friends.
Additional Customer Service channels include their phone support which you are able to call at +44 20 8068 0760 and they can also be reached through their email support.
Pros and Cons
Pros
24/7 Customer Support
Intuitive Trading Platform
Regulated
Cons
Does not accept Bitcoin
Is not available for the United States
Conclusion
In general, the website and trading platform of iqoptions.com aren't so bad at all. They offer a wide range of assets to trade and a very good Global coverage when it comes to Languages. The website was designed to keep all the clutter out and make sure that the visitor will focus on one thing, and that is trading. They have a number of great customer service channels that you are able to use if you need any help with your account.
If you ask me, this website is absolutely fine to try out. Last but not the least they also have a really nice web trading platform that you should try out.
Go to iqoption.com