Best Bitcoin Options Trading Brokers
Cryptocurrency derivatives are considered the most popular trading products today, especially when it comes to an emerging market with huge volume and dozens of reputable platforms that provide their services in crypto trading. Due to the different regulatory laws in each country, many companies emerged to fill this need and offer services based on options/derivatives of cryptocurrencies, which, although they may involve a slightly more risky trading modality, allow users to amplify their profits.
Each platform has different policies, trading functions and commissions, so we will be reviewing the best bitcoin options trading sites to determine which one best suits our objectives.
What are Bitcoin options?
Bitcoin options are an investment formula that is part of the derivatives of the BTC market. This financial alternative has the particularity of granting the right, but not the obligation, to buy or sell bitcoin at a specific price in a specific period.
Call options are contracts that grant the holder the right, but not the obligation, to buy an underlying cryptocurrency (Bitcoin, in this case) at a specified price before an expiration date.
When we buy a Call option, the price we pay is called "Premium". Paying said premium gives the buyer the right to buy the underlying at a certain "Strike Price" price.
Put options are contracts that grant the holder the right to sell an underlying at a specified price before the expiration date.
Put options are used in two possible scenarios:
Benefit when Bitcoin price is falling
Cover our positions against possible drops in the market, since they act as "insurance".
If for any reason Bitcoin price falls, the investor can exercise his right to sell the shares at the agreed price (strike price). If the share price rises, there is no obligation to exercise the options and the maximum loss is limited to the premium paid.
Are Bitcoin options safer than traditional futures?
Depending on your targets and what you hope to do with your trades. Options will give you a shield against high volatility and allow you to trade higher or lower in any cryptocurrency, regardless of fluctuations in a range.
Considering that trading perpetual contracts and futures makes you vulnerable to sudden market movements (making it more likely that your trade will hit the stop loss), Bitcoin options allow you to remain calm when positioning a trade. Basically you would only be worrying about paying the premium and not high commissions for each transaction, including the size of the failed position.
It should be noted that all trading products pose a risk to the investor, but Bitcoin options allow you to have more "slack" in your trades and by not worrying about high volatility, your trades can run safely.
Psychology is a very important aspect when trading, especially considering that volatility spikes can damage our mindset and make us interfere with a trade that would have turned out positive. For this reason, options are more suited to traders who prefer more controlled risk and who do not trade under adrenaline situations.
The best bitcoin options trading sites
FTX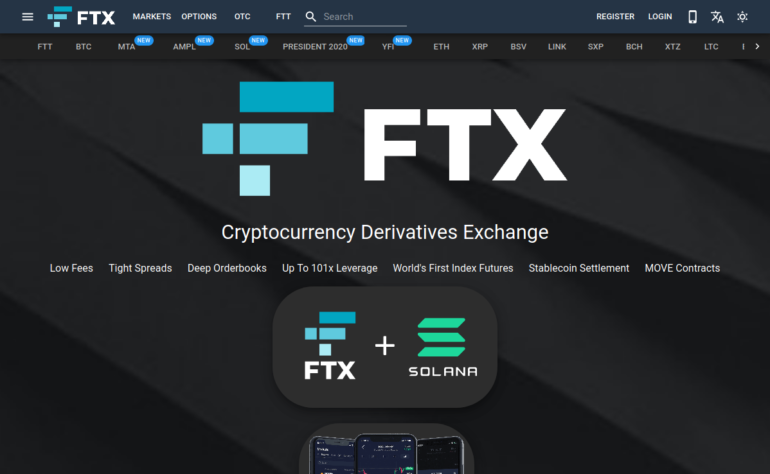 FTX is a cryptocurrency exchange founded in 2017 by two renowned traders: Sam Bankman-Fried (CEO) and Gary Wang (CTO). The company is registered in Antigua and Barbuda and has at least one million traders operating with its official platform.
This exchange offers different trading products, among which are industry-first derivatives, options, volatility products and leveraged tokens. Among the available products we can find traditional/perpetual options and futures for a decent list of cryptocurrencies, including Bitcoin, Ethereum, Litecoin, Theta, Aave, Binance Coin, Ripple, Filecoin, Ripple, Cardano, Algorand, Stellar, Tron, Compound, Swipe , Polkadot and more.
The FTX platform has an interface that is intuitive enough for beginner trading users to successfully place their orders and with multiple trading options for professionals.
Unlike other exchange platforms, FTX does not require you to complete KYC procedures to trade, although logically you will have to create an account to register as a user.
In addition to options/futures contracts Bitcoin and other cryptocurrencies, users will be able to choose between stocks and events (such as the presidential elections in the United States).
The graphics of FTX are simple and decently designed, although the platform crashes frequently and the interface starts running slowly. In the Bitcoin options menu, we can see the chart and below the options (calls and puts) with their corresponding strike price and other details about the orders that have been positioned in the market.
FTX also has a fee program for all types of trading in which maker (0.02%) and taker fees (0.07%) will be charged. However, the platform will not be charging maker fees to any user until the end of 2020.
Pros
Multiple trading products available.
It is way too easy to get started with FTX.
Fair transaction fees.
The platform has info of the team working behind the company.
Both fiat and cryptocurrencies are supported for deposits and withdrawals.
Cons
The interface tends to get really slow.
FTX is mostly a high-risk platform to trade on, especially with their leveraged tokens.
Relatively new platform in the crypto market.
DERIBIT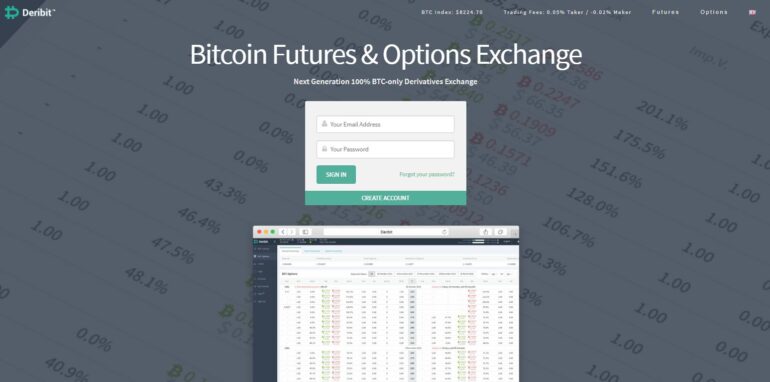 Deribit is a Bitcoin exchange platform for trading basic options and futures. Deribit was created in June 2016 by John Jansen in response to those in search of a professional and fully dedicated Bitcoin entry-level trading platform; a service that can create a totally liquid market with the same rules as a normal derivatives market.
Deribit users will be able to trade European-style cash-settled options, which are executed only at the time of their automatic expiration. For now, the Deribit platform only has 2 types of orders; Limit orders to trade Bitcoin at a specific price and market orders for instant entries.
Deribit's fee program is divided into different segments:
For options, the exchange charges market (0.03%) and taker (0.03%) fees from the underlying asset for each contract.
For option deliveries, a 0.015% fee is charged.
Settlements also charge a fee (0.19%), which will be applied depending on the value of the underlying asset.
Unlike other exchange platforms, Deribit does not accept deposits or withdrawals in fiat currency (EUR, USD, GBP…), since we are talking about a Bitcoin exchange specifically,  transactions towards the incoming and outgoing of the platform must be with BTC.
The interface is simple but creative at the same time, although a bit difficult to understand for novice users. However, the exchange has a demo version available called Test.Deribit so that non-professional users can familiarize themselves with the platform's functions and how to get the most of the available trading products.
Pros
Well designed interface con multiple trading options.
Lots of available trading products.
Fees are not so high.
Formal and legitimate platform with excellent levels of transaction volume.
Solid, respected security system.
Cons
Only Bitcoin options/futures available.
Fiat currency deposits are not supported.
Few order types available.
BINANCE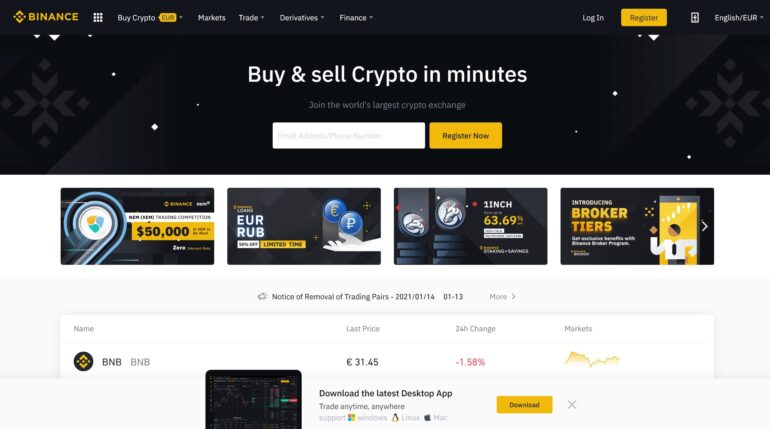 Binance is one of the largest cryptocurrency exchanges in the world, with hundreds of listed digital assets and multiple trading modes. This exchange company was founded in 2017 by Changpeng Zhao, who is still Binance's CEO today.
Binance users will be able to decide between one of the broadest Spots markets on the market with basically any cryptocurrency (including Bitcoin, and countless altcoins), a margin trading section where you can borrow from the exchange for larger operations, leveraged tokens and a section dedicated to the trading of futures / perpetual contracts.
Binance perpetual contracts can be executed through multiple order types, including market orders, limit, Stop, Stop-limit, OCO (One Cancels the Other) and more.
Although not all cryptocurrencies available on the spot market are listed in the futures section, Binance users will be able to trade dozens of pairs using leverage (up to 125x).
You can deposit in Binance through cryptocurrency or fiat currency deposits, using SWIFT, SEPA transfers, and credit / debit card purchases. Crypto deposits will only charge a small network fee that will depend on each cryptocurrency, while bank deposits will have no commission.
Binance's crypto derivatives charge fees through the maker and taker system. Makers will pay 0.02% (0.018% if you use BNB) and takers 0.04% (0.036% with BNB). Considering this, fees can affect the course of trades if a high level of leverage is being used.
Pros
High liquidity market.
Tons of available ERC-20 tokens and altcoins.
Users can deposit funds through crypto and fiat currency.
High-reputed exchange.
Strong security system.
Cons
Binance has been hacked before )although they covered all lost funds).
It may crash sometimes.
OKEX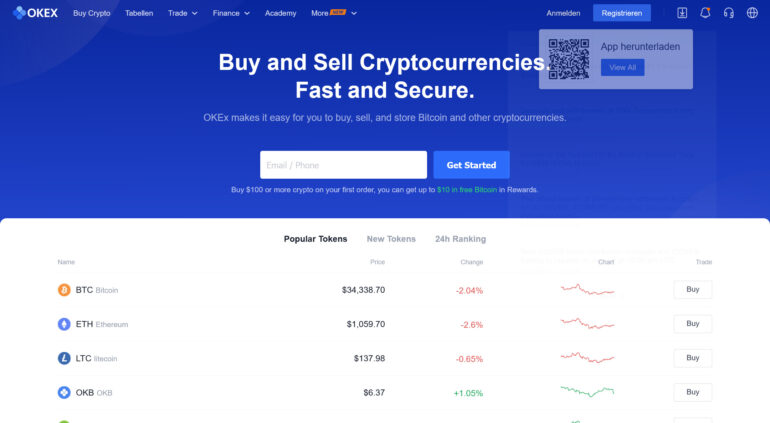 OKEX is a cryptocurrency trading platform that provides financial services to global operators that are part of the Blockchain community.
OKEX was founded in 2014 by Star Xu in China and has been making significant investments in venture capital funds such as Longling Capital, VenturesLab, Giant Network Group and more. Originally, the exchange was started under the name "OkCoin", although 3 years later they changed its name to "Okex".
The platform offers hundreds of tokens and futures trading pairs to give users a greater reach in terms of the assets they want to trade. In OKEX we can find hundreds of altcoins and ERC-20 tokens available, moving transactions through a Spot market, Futures, Options and Swap exchanges.
Okex is one of the platforms with the highest volume of transactions in the crypto market and moves an acceptable volume, which will influence the trading of users.
Options can only be executed for BTC/USD, ETH/USD, EOS/USD and you can find them in the trading section, as well as the history of options calls and puts.
As with other platforms, users will have to pay a fee to trade options. In this case, the exchange charges 0.02% for each trade regardless of the user's tier.
Okex contracts are based on the European style and will only be executed upon expiration.
This exchange supports P2P exchanges, has an integrated wallet and accepts deposits in cryptocurrencies, as well as Paypal and purchases with a credit/debit card to add funds to your account.
Pros
Okex supports spot and cryptocurrency derivatives trading, giving users more options.
A huge list of available cryptocurrencies.
The option fees are not bad.
Accepts multiple deposit methods.
Cons
The service is not available in the United States.
There are limits to withdrawing funds.
HUOBI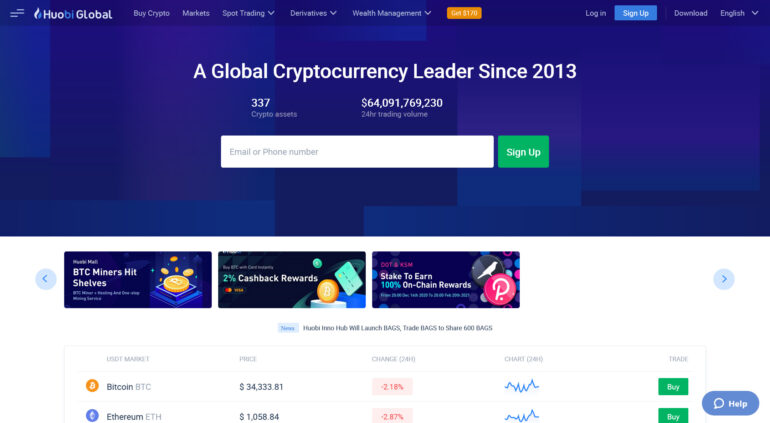 Huobi is a Chinese platform totally dedicated to cryptocurrency exchange and advanced trading. Created in 2013 by Leon Li, Huobi is one of the top 3 exchange houses in China, together with OKCoin and BTCC, offering a legitimate service through a platform with an excellent interface and spot markets, options, futures, coin-margined and USDT-margined swaps.
Besides having a considerable list of available cryptocurrencies in all its trading sections, the exchange also has its own token (HUSD). The token has similarities to Binance Coin and the Exchange is one of the largest exchanges in China, with an exchange in Singapore and offices in Hong Kong, Korea, Japan and the United States.
You can deposit funds to Huobi through crypto or credit card transactions for more than 150 countries. Among other options, users will be able to use Faster Payments for payments in the UK, SEPA transfers for the European Union, iDEAL for Dutch residents and more.
The exchange works in many countries with the exception of certain nations, among which are China and the United States.
Huobi offers call and put options for Bitcoin and Ethereum, which will charge some fees to be executed.
For BTC options, the maker fees are 0.002 and the taker fees 0.005.
For ETH options, the maker fees are 0.0005 and the taker fees 0.00125.
Both pairs will also need a delivery fee of 0.002 and 0.0005, respectively.
Pros
Multiple deposit and withdrawal methods.
Huobi is an experienced exchange platform, as it has been on the market for 7 years now.
Huge list of supported cryptocurrencies.
High transction volume.
A lot of trading options for professional traders.
Cons
Restrictions in the United States.
Only 2 available trading pairs for options.
The platform might not be the best for beginners.