PrimeXBT Review
Company Location
Seychelles
Currencies
BTC, ETH, LTC, XRP, EOS
Tradeable Coins
BTC, ETH, XRP, LTC, EOS
Tradeable Markets
Cryptocurrencies, Currencies, Indices, Commodities
Order Types
Market, Limit, Stop, OCO
Trading Pairs
BTC/USD, ETH/USD, ETH/BTC, LTC/USD, LTC/BTC, XRP/USD, XRP/BTC, EOS/USD, EOS/BTC, AUD/CAD, AUD/CHF, AUD/JPY, AUD/USD, EUR/AUD, EUR/CAD, EUR/CHF, EUR/GBP, EUR/JPY, EUR/USD, GBP/AUD, GBP/CAD, GBP/CHF, GBP/JPY, GBP/USD, USD/CAD, USD/CHF, USD/JPY, XAG/USD, XAU/USD
Trading Fees
0.001% - 0.05%
50% Bonus! Promo Code: TOTHEMOON – Click Here
The derivative trading platform, PrimeXBT has shown massive growth in 2019 among crypto traders with their option to offer up to 100x leverage in five different cryptocurrencies. Their trading interface provides crypto trader all the innovative tools which eventually leads to trading successes.
Review Contents
During the first year of business, they have already proved their client-oriented approach delivers a high level of service. In our review, we look at the features of PrimeXBT and what it can offer to crypto traders globally.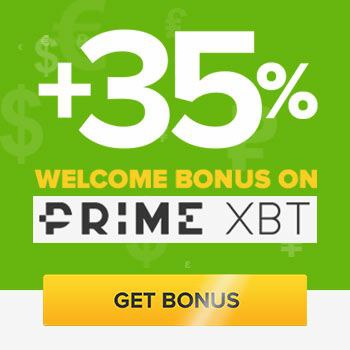 Company Background
PrimeXBT has launched in 2018 and underwent rapid growth in 2019. By now they serve customers worldwide, up to 150 different countries are supported. The company is registered in the Seychelles Islands with the registration number 148707.

There is not much information available about the founders or owners of the company other than that the PrimeXBT serves customers globally.
They run a Medium blog about the features of the platform or you can follow them on Twitter or on Facebook for daily posts on important events, news recaps trading ideas. Their content is high quality and receives good feedback from their followers on all of the platforms. You can also follow their Reddit thread for important updates.
Trading Instruments on PrimeXBT
PrimeXBT supports 5 different altcoins including Bitcoin, Ethereum, Ripple, Litecoin and EOS. You can trade cryptos against BTC or against USD. But PrimeXBT is not just about cryptocurrency trading. You can find indices in various regions worldwide such as S&P500, FTSE100, JAPAN, forex products in the 25 major FX pairs and even commodities products, such as oil and gold. So you can profit from a lot of different financial product's growth and decline and create a very well-diversified portfolio at one single account if you want.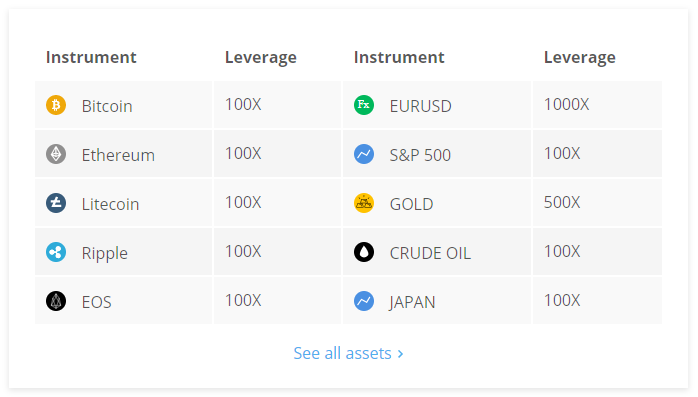 Here is the list of all the cryptocurrency tickers available on PrimeXBT:
BTC, ETH, XRP, LTC, EOS
The following CFDs are supported on PrimeXBT:
BRENT, CRUDE, NAT.GAS, GER30, SP500, NASDAQ, HK-HSI, AUS200, JAPAN, UK100
PrimeXBT supports also forex trading in 25 majors including the following fiat currencies in various combinations:
AUD, CAD, CHF, JPY, USD, EUR, GBP, JPY, XAG
Margin Trading
Margin trading is one of the features most crypto and forex traders are looking for on a platform and PrimeXBT will surely satisfy your need for leverage. PrimeXBT offers an extraordinarily high level of leverage, up to 100x, this means for each 1 USD invested capital you can get 100 USD worth of buying and selling power. With a greater market position, your potential profit can be higher as well.
Just bear in mind that leveraged trading includes a significant amount of risk. You risk your capital greatly as the position are more sensitive to market movements.
PrimeXBT provides one of the highest leverage on the market for cryptocurrency trading (up to 100x) and even higher, up to 500x for forex products. The platform provides a margin calculator that helps you determine the amount of leverage you can take on in certain products with your available capital.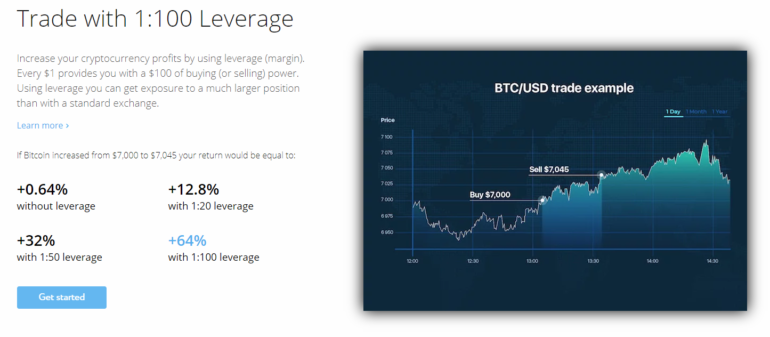 Order Types on PrimeXBT
You can find all the important trading order types on PrimeXBT including market, limit, stop and take orders.
Market order helps you to execute your trades at the first available market prices, which let you to execute trades right away if there is any urgency from the market or from the trader's side. This is the default choice on the trading screen when you click on Buy or Sell and you only need to add the amount you want to trade the rest is taken care by the platform.
Limit orders lets you to decide the minimum or maximum price on which you want to trade. This order type helps you to improve the entry or exit price by giving the decision to your hand on the execution price. Note however that during limit orders your trade might not get executed if market does not reach the specific limit price you have entered.
Stop order help you in risk management. At the specified stop price, the order is executed to become a market order. This limits the losses on an existing position as the platform automatically enters or leaves the market at the stop price. If you want to add additional protection to your portfolio you can either decide to add a Stop loss or a Take profit order. These order types help you to limit the losses in both ways: even if the price moved in an unfavorable way but also helps you to take the profits in time before the markets reversed. These are the best tools to remove fear and greed from your trading strategy.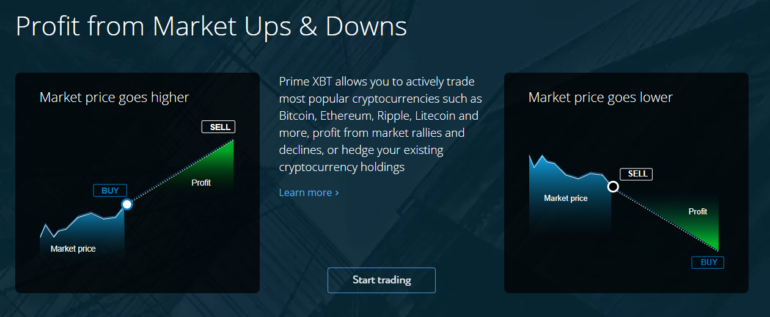 And finally, there is a special, conditional order type that is also available on PrimeXBT. The OCO order, a short acronym for One Cancels The Other order will only execute if the conditions preset are met. This is basically a combination of a stop order and a limit order. If either the stop or the limit price is reached on the market, the order automatically executed. Otherwise if the conditions are not met, the order gets canceled. This conditional OCO order helps you to protect your portfolio from rapid, unexpected market movements which are usually caused by news flashes.

PrimeXBT is an STP – Straight Through Processing broker. This means when they receive a client order, they pass it immediately directly to their liquidity providers. There is no dealing desk, all orders are automatically executed through the platform. This process ensures the fastest execution and provides great liquidity to traders. The quotes for the platform are received from a pool of 12 liquidity providers and the system behind automatically look for arbitrage to offer the best currently available prices to clients. The prices of the cryptocurrencies listed on PrimeXBT are coming from crypto exchanges that provide liquidity. The CFD and FX prices are coming from a  fess aggregator which is in partnership with PrimeXBT.
Withdrawals and Deposits on PrimeXBT
To start trading on PrimeXBT, start with registering with an email address. After email confirmation, you are ready to trade. There is no KYC process on the exchange, they value privacy very much, so no need to provide a passport or proof of address at any stage, not even for withdrawals.

Go to the Deposit page on the dashboard. Here you can find your unique BTC wallet address linked to your PrimeXBT account. You need to transfer Bitcoin to this specific address to fund your balance.
If you do not have bitcoin, you can purchase BTC directly through the third-party integration option. Changelly provides a quick and easy way to buy bitcoins within PrimeXBT's platform. This means you do not need to leave the site if you do not have bitcoins in your pocket.
You can only deposit bitcoin on PrimeXBT. They deposit coins after 3 block confirmations so you will need to wait for the transaction process by the bitcoin network. It usually takes around 40 minutes, if you want to trade urgently on PrimeXBT, probably the best is to buy bitcoin through their platform using Changelly as mentioned above as in that case the coins are instantly debited to your account.
There is no option to deposit fiat currencies on PrimeXBT and also no other altcoins are supported. But you can buy bitcoin using credit card or bank transfer through their third party integration option.
You can always follow the status of your deposit on the Deposit page whether it is pending or completed.
The minimum deposit is 0.001 BTC on PrimeXBT. Using this 0.001 BTC and the maximum of 100x leverage you are able to trade up to 0.1 BTC worth of assets on PrimeXBT. There is no deposit fee on PrimeXBT.

Once you have finished trading and you want to withdraw your profits, head to the Withdrawal page.  There is no minimum or maximum required you can withdraw from PrimeXBT. Note that PrimeXBT charges a flat fee of 0.0005 BTC for each withdrawal which is paid to the bitcoin network to process the transaction.
Withdrawals are processed once a day at 12:00 UTC time. Bear in mind this when requesting payout so you do not worry about pending funds.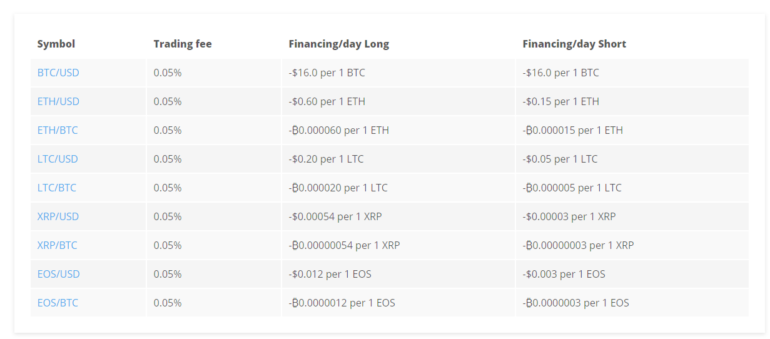 Fees on PrimeXBT
There are two different fees you need to be aware of when trading on PrimeXBT. Make sure you check out the current trading fees on the fee page before starting trading to avoid unnecessary surprises.
The trading fee is applicable each time you open or close a position. It is a flat fee which is segmented based on the trading instruments. Forex majors has the lowest trading fees.
Here are the current trading fees on PrimeXBT:
0.05% for Cryptocurrencies
0.01% for Indices and Commodities
0.001% for Forex majors
The other fee charged by PrimeXBT is the overnight financing fee, which is charged each time a position is carried forward to the next trading date. This means if you have an open position at 0:00 UTC time you need to pay an overnight financing fee on PrimeXBT. If you close the positions before this time, you do not have to pay this fee, so consider this in your trading strategy.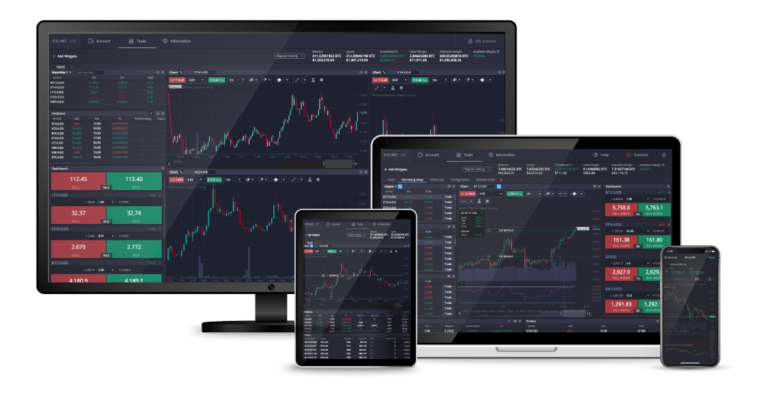 User Experience on PrimeXBT
PrimeXBT's trading interface is easy to use and very userfriendly. There is plenty of information available about walkthrough and trading tips both on their site and on their social media channels.
In case you still have any questions you can also turn to them any time in email or through the live chat.
To increase the security of your account you can turn on 2FA to ensure there is no unauthorized access to your PrimeXBT account and you control your funds all the time.

The web version of the trading platform is well working on all available web browsers, there is no need to download any software to your PC. In addition to this, if you prefer mobile apps, you can download the iOS App or Android App to be able to trade on the go.
Unfortunately, there is no demo account or paper trading option on Prime XTB. They suggest you upload the minimum deposit of 0.001 BTC to try out the platform instead. Also, there is no API that you can use or connect to on PrimeXBT but they are working on one to develop it in the future.
Conclusion
PrimeXBT is a new crypto trading exchange allowing you to trade on margin with up to 100x leverage on cryptocurrencies and also offering the option to trade with forex and commodities instrument without going through any KYC process, only based on bitcoin deposits. The fees are reasonably low compared to market participants and the platform provides good liquidity conditions for fast execution. The trading dashboard can be reached also on mobile apps along with a responsive web interface. Even if you do not have bitcoins, PrimeXBT offers you the option to purchase coins using a third party vendor. All-in all, PrimeXBT is a good option if you are interested in margin trading on cryptos.
Go to PrimeXBT.com