Best 5 US Friendly Bitcoin Brokers
Getting the chance to purchase BTC through a website that you like is probably the most efficient way to get Bitcoins today. But this simple task of logging into a BTC broker with your username details and password isn't that easy for some people, especially our friends from the United States. As we all know, not all websites accept registrations from the US, making it hard for people that live there to purchase Bitcoins.
With this being said, we have provided people that are based in the United Sates five options to choose from. These websites sell cryptocurrency and we will try our best to compare them from one another by highlighting important things like payment options, website features, and of course, available crypto for sale.
Top 5 US Friendly Crypto Brokers:
Without further delay, let us talk about the best five US-Friendly Bitcoin brokers!
Kraken.com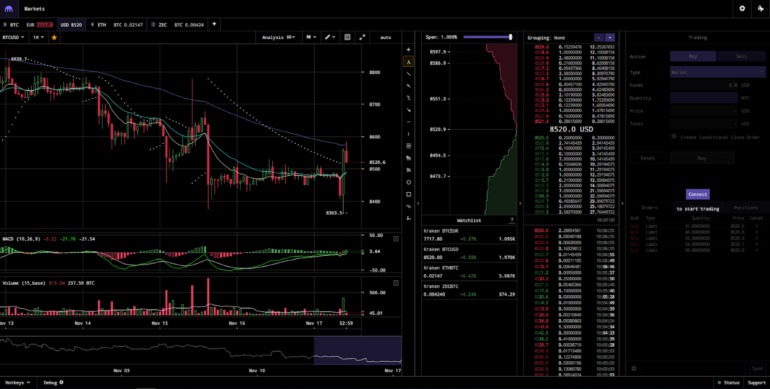 Kraken accepts customers from the United States and offers cryptocurrency margin trading up to 50x leverage on futures. The exchange was founded in 2011 and by now one of the oldest and largest place to trade Bitcoin and other altcoins. With its headquarter in San Francisco, California, Kraken serves clients worldwide. To sign up, you need to provide name, address, and email.
Payment Options – Kraken offers several different options to fund your account, including bank wire transfers, ACH, credit cards and cryptocurrency deposits. Minimum deposit is $20 USD and for certain altcoins, they apply a deposit fee.
Withdrawal – You can withdraw funds from Kraken both in fiat and in crypto, the minimum withdrawal is from 0.005 BTC.
Website – Kraken.com provides all the necessary information you need to get started with cryptocurrency trading. All the features are listed in the navbar along with prices and if you need any support their in-depth FAQ will certainly have an answer to your question. It is also possible to see the trading interface before signing up.
Available Market – Clients can trade fiat/crypto and crypto/crypto trading pairs on Kraken.
Pros
Versatile order types
Several altcoins supported
Low fees
Cons
Complex fee schedule
Minimum deposits in some altcoins
Verification can take some time
SimpleFX.com

Anonymous trading is available in SimpleFX.com and they accept US customers. The website was established in 2014 and supports 15 Languages! The company is located in Saint Vincent and the Grenadines. To create an account, all you need to have is an email address. What's great about this website is the trade volume and available pairs you are able to choose from.
Payment Options – What's awesome about this website is the number of payment options they have available for you to choose from. They have BTC, DASH, ETH, LTC, Credit Cards, Skrill, Neteller, Wire Transfer, FasaPay, and MegaTransfer. Minimum deposit starts from 0.1 USD up to $20 USD.
Withdrawal – Crypto withdrawals do not have any charge when it comes to fees but the minimum request starts from 0.001 BTC up to 0.05 LTC. When it comes to Fiat withdrawals, the website charges a minimum fee of $10 USD per transaction request.
Website – The website is fun and informative. They have all the important tabs tucked on the left-hand side of the account page. They also have training videos that can help a new trader navigate their website easily. They also have a demo account, which is always great to have!
Available Market – Users are able to trade with different markets like crypto/fiat pairs, Forex, Indices, Commodities, and a lot more! This website does not joke around when it comes to trading pairs as they have more than enough to go around with.
Pros
Accepts BTC and Fiat payments
Demo Account
Anonymous Trading
Cons
Website latency issues
Some negative feedbacks
Coinut.com

Aside from being a US-Friendly trading website, Coinut.com has also the capability of being an anonymous platform for people that prefer anonymous trading. Coinut Pte. Ltd., has been operating since 2013 and has provided trading services for people around the world. The company is located in Singapore, which is great since their government is swaying towards the positive side of cryptocurrency trading.
Payment Options – There are more than just a couple of payment options here at Coinut.com since registered users are able to choose from currencies like BTC, LTC, ETH, ETC, USDT, BCH, and an option to go USD after all the requirements have been submitted.
Withdrawal – Withdrawal methods is a mirror image of what they have for deposits. This ensures easy access to your funds whether it is going in or out of the website. Withdrawal fees start from 0.001 BTC per transaction.
Website – The website is spotless, as expected from a Singaporean-based company. There are no lags experienced when we tried to simultaneously open up different tabs. Aside from their spotless website, they also provide referral incentives, which is great.
Available Market – Registered account holders are able to trade with different crypto pairs.
There are no maker fees in Coinut.com, which is great since this would be a big saving when it comes to long-time trading plans. They do charge takers, which is 0.1% of the total transaction value which is lesser compared to regular trading websites that reach up to 0.25% on taker fees.
Pros
Account creation is a breeze
Accepts BTC and USD
Low trading fees
Futures and Options trading
Cons
Crypto/Fiat pairs not available
Limited number of crypto trades
Evolve.Markets

Founded in 2016, Evolve.Markets is a fairly new website amongst the giant crypto-trading websites out there today. The company is based in Saint Vincent and the Grenadines and keeps their BTC funds in cold wallets. In addition, this website just like any most of BTC trading websites is not being regulated by any regulatory body.
Payment Options – The website strictly only accepts BTC payment from your BTC wallets. There are no transfer fees when it comes to deposits here at Evolve.Markets.
Withdrawal – What's great is their withdrawal fees because they do not exist! Yes! The only withdrawal option here at Evolve.Markets would only be BTC but there are no network fees that you need to pay, everything's covered. They do have a minimum withdrawal amount which is 0.005 BTC per request.
Website – They do have a demo account here, which is great for people that love to explore trading platforms and try out their features without spending any money. They also have a really flexible leverage system in the website wherein you are able to choose freely depending on what leverage you need.
Available Market – Here at Evolve.Market they have different trading platforms that you can choose from. This would be their Web Trader, Android, and iPhone versions of the platform. Available markets range from crypto/fiat pairs to Forex and commodities.
There are two different account types in Markets.Evolve, this would be Classic and Pro. A classic account has commission built into the spread while on the other hand; the Pro account has tighter spreads but charges commission per trade.
Pros
BTC focused
Account creation is fast
Demo Account
Cons
Unregulated trading website
Only accepts BTC payments
Conclusion
Provided above are five of our preferred website to purchase BTC or any other available crypto for your personal or trading use! Some of these websites also double as a trading platform wherein you are not only able to purchase BTC but trade them as well. As always, this is just a recommendation from us and we urge you to read more about a website before investing money in it.