Whaleclub Review – Facts, Pro´s and Con´s on Whaleclub.co
Company Location
Hong Kong
Fiat Currencies
USD, EUR, JPY, GBP
Minimum Deposit
No Minimum
Payment Methods
Bitcoin, DASH
Promotions
30% Bonus for first deposit within 7 days of registration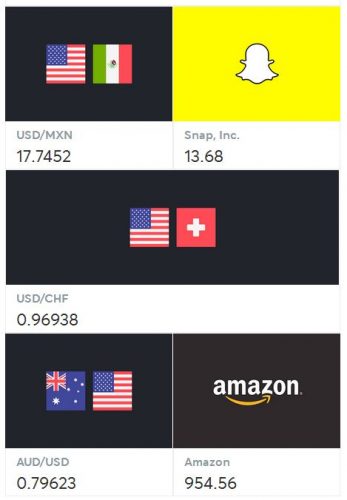 Update: Whaleclub.co is offline, looks like an exit scam 🙁
What comes to your mind when you hear the website name Whaleclub.co? Strangely, I think about a whale wearing a top hat and holding a cane. But what exactly are they targeting here? Well, the title "Whales" means huge, people that are inclined in trading stocks in huge amounts or a wealthy person that has a huge bank account, these people are called Whales. If you have been busy or just at least active in the crypto currency ecosystem, then you might have heard about Whaleclub.co when talking with your friends.
What's great about this trading platform is that they accept Bitcoin! Today, we will be looking into what Whaleclub is all about, create an account, try and do some trades and look around and see what they have for their customers.
The company is based in Hong Kong, which means they are independent of EU and US rules and regulations. Without a regulating body, transactions are really hardcore anonymous. The website just opened shop in 2016 which is really young in the trading industry. But what does Whaleclub.co has that most of the "Adult" trading websites have today? That's what we're going to find out together.
Creating an Account and Trading with Whaleclub.co
You know, there are a lot of websites out there today that looks like an online casino rather than a trading platform. I'm glad to say that Whaleclub.co is not part of that bandwagon. In order to create an account, we need to head to their website and click on their Demo Account. Their demo account doesn't require any registration for you to use the services; they even provide you with a Tutorial on how to use their trading platform! (This is actually the first time I experienced a tutorial on how to use a trading platform)
Whaleclub.co is starting to impress me with these gestures they are making. The tutorial is mainly about the available tabs that you are able to use and navigate with for your advantage. If you ask me, this is definitely great! You would not waste thirty minutes to an hour just trying to figure out which is which, but I'm sure that most of you guys will just figure it out one way or another; we are unable to speak on behalf of our friends that are new to trading.
The tutorial is an eight-part piece, which is actually informative when it comes to showing you the important buttons of the trading platform. Now, are we ready to do a test buy using the Demo Account? I bet you are! The tutorial teaches you everything that you need to know, but for you, I will gladly show you how without even going to the website itself.
After you are done with the tutorial part or skipped it, you will be redirected to the Demo Account page with a total balance of 5 BTC and 50 DASH to play with. Please be advised that these are the two main cryptocurrencies here at Whaleclub.co.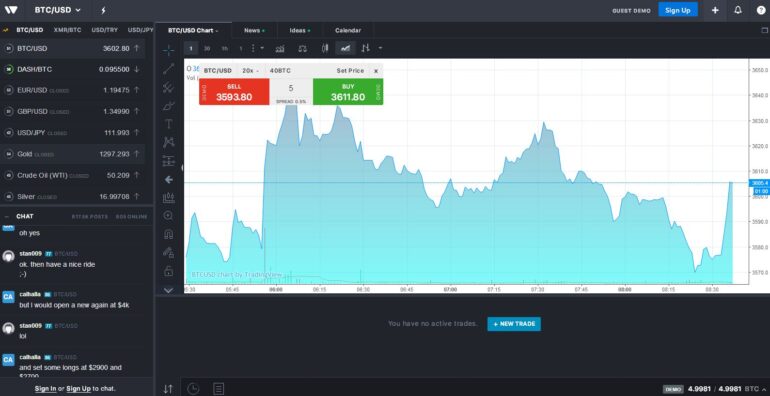 Anyhow, click on the pair that you want to trade with. We have BTC/USD, DASH/BTC, and XMR/BTC. You are able to long or short an asset depending on what you think is profitable on the current market. If you want to profit from the declining market then click on "SELL" with the red colored button and if you want to profit from the rising market, then click on "BUY". If you do not know what I am talking about, then you need to read more about long and short positions here.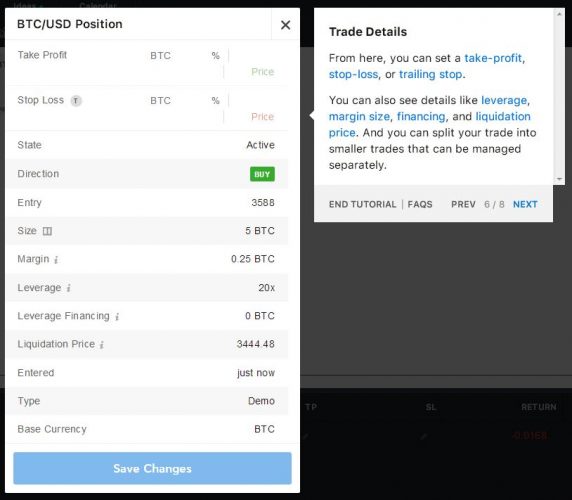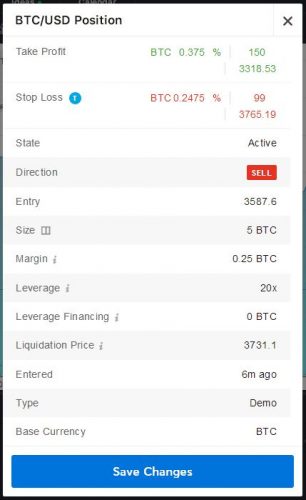 Once you have purchased a position in the trade, this will appear on the lower part of the trade screen. Click on the position and the options tab will show up. This contains everything that you need to know about the trade. On this tab, you are able to change the Stop Loss and Take Profit numbers to your advantage. This tab also contains the size of the trade, the leverage and the margin you are in at and the currency that you are trading with. In other words, this tab contains everything! Again, this will be discussed in the free tutorial that was provided. If you are happy with the adjustments that you made, click on "Save" and this will be saved.
Creating a Real Account
Now that we know how to get into their Demo Account, which only took us seconds, it is time to know how to create a real account with Whaleclub.co. If you want to create a real account, click on this link. One of their promotions is a 30% Bonus on your first deposit right after you sign up for an account. In order to create a real account with them, all you need to provide is a valid email address, a password for your account, your first name, and account username.
Right after you complete the registration process a confirmation email will be sent to the valid address that you provided. After clicking on the verification link, you will be redirected to the trading platform in where you are able to choose to deposit or use their Demo Account. It's actually nice since you are not forced-fed a deposit slip unlike any other trading websites out there today.
Trading Anonymously
One thing that got me was that you as a trader can actually trade anonymously using Whaleclub.co! Why? Well for the fact that they accept crypto currency payments that's why. As we all know, you only need to have a digital wallet attached to your account and you are good to go. When creating an account, you only need to provide a valid email address and no personal information is asked for you, only a name for email purposes. You can even go with the name Hulk Hogan if you ask me. My point is, if you are able to trade anonymously in a trading platform then that is great news! Here you are able to do that easily and without any problems at all.
Leverage and Margin Trading
Leverage and margin trading are the two most important things that you need to know about a trading platform. Below is the information regarding these two most important things you need to put your eyes on here at Whaleclub.co:
BTC/USD: Up to 1:10 With a Maximum position size of 30 BTC. (Spread is 4.8; Financing Rate is 1.85)
ETH/BTC: Up to 1:5 With a Maximum position size of 5 BTC. (Spread is 0.001; Financing Rate is 38.2%)
DASH/BTC: Up to 1:3 With a Maximum position size of 3 BTC. (Spread is 0.0006; Financing Rate is 0.6%)
XMR/BTC: Up to 1:5 With a Maximum position size of 5 BTC. (Spread is 0.001; Financing Rate is 0.6%)
LTC/USD: Up to 1:5 with a Maximum position size of 10 BTC. (Spread is 0.04; Financing Rate is 0.5%)
Learn more about the maximum Leverage and Margins available here at Whaleclub.co through this link.
Deposits and Withdrawals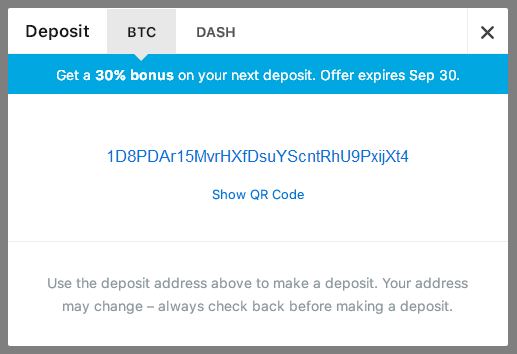 What I love about this website is their obvious attention to crypto currency users. This website promotes the use of crypto currency since you are only able to deposit through Bitcoin or DASH. In order to deposit, all you need to do is click on the DEPOSIT button located on the lower part of your account page. In regards to the 30% first deposit bonus, this only works within 7 days of your registration. If you are planning to deposit, then better do it within the first seven days upon registering an account with Whaleclub.co.
When it comes to withdrawals, of course, you are able to do so with connecting your Bitcoin and DASH wallets into your account. What about the fees? Generally speaking, there are no fees when it comes to transacting with crypto currencies, that's why people use them so often today. There is a charge though from the Bitcoin Network when you withdraw money from a website and this would cost you 0.001 BTC, that's roughly around USD $3.50 as of this moment.
Customer Service
I have said it a thousand times and I will say it again. When it comes to Customer Service, this should not be looked over. If you have a business transaction, may it be online or not, customer service is your life line in case something goes south. That's why we need to make sure that we always have a full working customer service platform for the websites that we visit.
Here at Whaleclub.co, they do not offer any phone support which is quite sad if you ask me. They also do not have any live chat support. What they have is an email support service platform wherein you are able to reach them. To get to their email support, just scroll down the main page and click on "Contact Support" to access their CS channel.
Pros and Cons
Pros
Accepts Bitcoin and DASH
No long verification process
Zero trading fees
Cons
Only accepts Cryptocurrency deposits
High-Interest Fees
Does not have phone/live chat support
Whaleclub.co Conclusion
After all the exploring we did, what can you say about this website? For me, they are actually not bad at all. If you want to trade anonymously, then this is the website that you have been looking for! Here at Whaleclub.co, you do not need to provide lengthily application forms just to create an account, you can literally make one in just a minute. Any negatives?
Well, for the fact that they only accept Bitcoin and DASH is quite a letdown for people that use Credit Cards but all-in-all, this website is actually a refreshing sight compared to any other trading platforms out there today.
Go to whaleclub.co