Top 3 Bitcoin Trading Bots
The whole crypto-trading world has not only revised the way we treated monetary transactions but it has opened a whole lot of doors for new innovations! We all know how stressful trading can become whether it be day trading or crypto; the pressure of getting your initial investment back is so great that it often clouds your judgment and gets the best out of you. Ask any seasoned veteran in the trading business and they will tell you that emotions get on the way of trading. There have been countless stories about being short on success due to people getting swayed by their emotions when doing trades! You might even have a friend or two that have shared something insightful when it comes to trading with emotions.
What if emotions can be taken off? We are human beings and it is our nature to involve emotions on everything that we do even if we do not mean to. It's humanly impossible to shut down trading emotions completely even to the most seasoned veteran in the playground today. Though it's impossible to shut the feelings down, we have devised a way to go around this issue and create something that can help us get through those trades without any emotional stress involved. Today, we will be talking about three trading bots that can help you get rid of emotions and focus on counting your gains! In addition, we will be comparing the three websites (Bots) to make it easier for you to choose between them. A website which reviews Crypto Bots in depth is www.bestbitcoinbot.com.
Bots have been used in many opportunities online and have helped a huge number of businesses to create a more structured and emotionless process that is needed in everyday transactions. Without further delay, let's talk about that!
Haasonline.com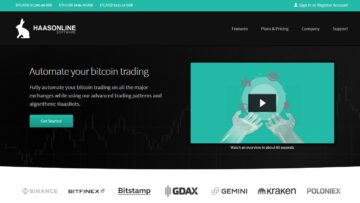 The software was officially launched in 2014 by their CEO Stephan de Haas and with over five-thousand active users today, it is considered one of the top cryptocurrency Bots to date. The main pitch of the company is to maximize your profit by avoiding downtimes like eating and sleeping by providing something that can help you with all the trading help you can get.
Features

When shopping for the next trading Bot, it is imperative to know what features they bring to help you decide whether get it or not. For Haasbot, we've got the following features below:
Automated Trading – The reason why people even think of getting Bots to help them with their trading is to have automated trading. This allows traders to have their Bots operate 24 hours a day, 7 days a week, and 365 days a year.
Historical & Real-time Backtesting – One of the important features this Bot has is the ability to create simulations with the use of historical data and see how your Bot plays on different market scenes. If you get this Bot, this is probably one of the features that you will be spending more time with due to its huge impact in helping you learn more about it as a system.
Indicators – HaasBot can use technical indicators to help you out in your trading quests. You will be able to use RSI, MACD, and Fibonacci together with insurance.
No Hidden Fees – The service is not free but they do not charge you for anything beyond your current running plan. There are no extra fees for the number of orders you will be placing and your profits will be left untouched. You also get unrestricted access to all their supported websites without any charge.
Referral Program – The company offers a handsome fee of 10% for every completed purchase!
Plans and Pricing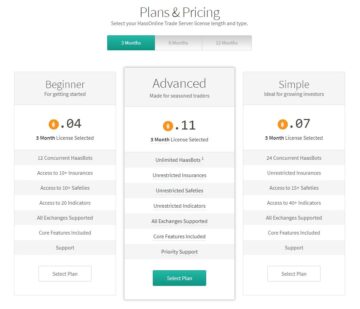 Now that we've talked about their features, it's time to talk about their plans and pricing. HaasBot does not offer any free trial versions that we can play with but they are open to requests by contacting their sales team which you can do through this link. The Bot is classified into three Plans, namely Beginner, Simple, and Advanced. Please be advised that the mentioned prices below are for a year of subscription. Their plans are divided into 3, 6, and 12 months respectively. Read more about it here.
Beginner – For people that are just getting started in the world of Bot trading, this is the perfect plan for you. With their flexible plans, you can try the cheapest one out for BTC 0.12 per year or go for 3 months and play BTC 0.04.
Simple – The second tier account is for people that have already gone past the beginner stage and has a firm grasp of the trading world. Subscription is BTC 0.2 per year.
Advanced – Even the best traders today will still find help in getting Bots to manage their daily trading plans. The advanced Bicoin Trading Bots come with priority support and goes for BTC 0.32 a year.
Supported Websites
HaasBot supports websites like Binance, Bitfinex, Bitstamp, GDAX, Gemini, Kraken, and Poloniex.
https://www.youtube.com/watch?v=7ABj8yaaqIw
Pros and Cons
Pros
A lot of pre-made Bot choices
Decent software support
Cons
No Free Trial
No mobile version
No Fiat Payments
Cryptotrader.org

The website provides a good amount of bots to choose from which can be viewed through their "Strategies" tab. Unfortunately, the website does not mention anything about how they started and the people behind the website is not listed too. We do know that Cryptotrader.org works on a different platform which uses the cloud to help you with your Bot-trading needs.
Features

Features help people decide which Bot to go with. Below are the available features that you will be getting with Cryptotrader.org:
Automated Trading – The Company goes with a slightly different approach compared to other companies today. You do not need to download any clients to be installed on your computers but instead, their Bots operate through their servers online to provide automated trading.
Major Exchange Support – Cryptotrader provides support to most of the major and well-known exchange websites today for easier integration of their Bot system.
Strategies – The website provides support for people that are looking to get into working strategies with the use of their Bot. You can read more about this very useful feature here.
Backtesting Strategies – The backtesting tool lets you create scenarios that can be of great help when the real thing runs along your way. You will be able to use the tool with the most recent test or create a new one from scratch.
Email/SMS Notifications – Aside from having an automated system take care of your trading business, you will also get real-time email and SMS notifications to let you know the current situation of your portfolio.
Topics – Discussions, Tips, and Guides can be found under the Topics tab creating a community within people that are using the system. This is awesome since people will be able to relate to other users and ask questions with one another through a forum-type approach.
Plans and Pricing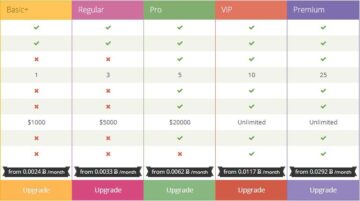 How much would a Cryptotrader Bot go for? The available plans are segregated into five different account tiers that have significant differences. Just like the mentioned software before this one, the company does not also offer any free trials on any of their available plans. Nonetheless, they provide an awesome setup that you will be able to choose from and decide which plan is perfect for your needs.
Basic – A starter pack that will help you start your way through the world of crypto trading with the use of Bots. You will be getting access to Backtesting and Email alerts along with $1000 trading account equity limit for BTC 0.0024 per month.
Regular – The Regular plan provides you with more bots to work with and up to $5000 in trading account equity limit for BTC 0.0033 a month.
Pro – Getting the PRO account opens up a lot of features like early access to new features, access to multiple trading instruments, margin trading, short positions, and up to 5 live trading bots. This plan goes for BTC 0.0062 per month.
VIP – The VIP account has all the features of the previously mentioned plans with the addition of priority support. VIP plan holders will also be able to have up to 10 live trading bots with unlimited trading account equity limit at BTC 0.0118 per month.
Premium – The highest available tier is the Premium plan with the same features as VIP but with more live trading bots (up to 25) to use for regular trading. The price of a premium membership account stars from BTC 0.03 a month.
Supported Websites
Here at Cryptotrader they provide support to exchange websites like Bitfinex, Bitstamp, Poloniex, Coinbase, Kraken, Bittrex, OKCoin, and Huobi. The complete list of supported exchanges can be read on their website as well.
https://www.youtube.com/watch?v=Ua0iQPpIy8o
Pros and Cons
Pros
No Download Needed
Supports Major Exchange Websites
Cons
No Yearly Subscription
No Fiat Payments
Visit Cryptotrader.org Website
BTCrobot.com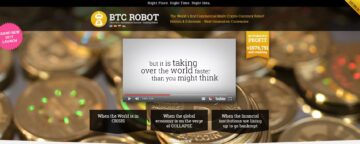 The website has a stamp saying that they just had a brand new launch in 2017 but further research proves that they have been existing since 2014; maybe a PR stunt? Anyhow, the website lists the people behind the project and is exhaustingly filled with promotions. BTCRobot is different from the mentioned Bots earlier because they do accept Fiat payments to purchase different plans! In addition, if you think that the program does not work for you, the product can be returned as long as it is within 60 days of purchase and within their Refund Policy.
Features
No Commissions – Believe it or not, there is systems/software out there today that takes a percentage out of your earnings. BTCRobot does not do that and all of your earnings are sent directly to your personal wallet.
Easy Setup – Their automated trading system is easy to setup and it works with their server. This means that downloading anything is not needed to use their services.
Demo Account – Not all trading Bots today offer a Demo Account wherein you will be able to test out the waters before going in for the real deal. With BTCRobot, testing out how it works can be easily done with their Demo Account.
Plans and Pricing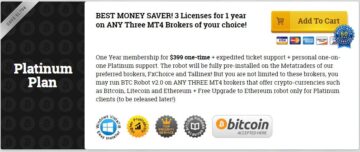 BTCRobot.com offers three types of plans to choose from. This is the Silver, Gold, and Platinum Plan. Of course, these plans have different advantages the higher you go up the account tier ladder.
Silver Plan – Skipping the basics, we've got the Silver Plan designed for people that want to try out the system for one license with the broker of your choice. The Silver Plan goes for $19.99 per month.
Gold Plan – The Gold Plan provides you with 3 Bot licenses to operate on your exchange website of choice. Of course, having to own more than one Bot to work simultaneously for you is profitable in the long run for $39.99 a month!
Platinum Plan – The Platinum Plan provides all the features provided by the previous plans but the plan is for one year. For $399.00 you will get 3 licenses and get priority customer service support if you need any help with your account. In addition, the Platinum Plan accepts BTC payments.
Supported Websites
Where there's MT4 (MetaTrader 4) your BTCRobot.com should be working fine. To name a few websites that support MT4 platform we've got SimpleFX, Bitfinex, and FXPro to name a few.
Pros and Cons
Pros
Easy to setup
Lots of tutorials
Cons
Some negative feedback
Only supports MT4